History Made -One of the international acclaimed Fine Artist Jameel Rasheed speaks on it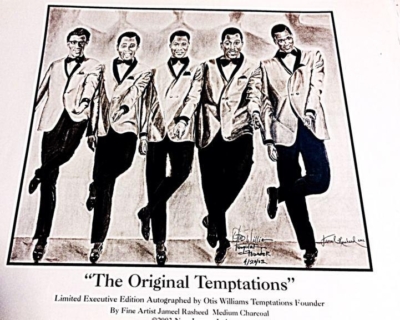 Press Release (ePRNews.com) - HOLLYWOOD, Calif. - Mar 31, 2017 - Setting in stone these days is one of the most challenging mission as a fine artist, Mr.Jameel Rasheed is a renowned international acclaimed fine artist who creates and preserves African American iconic legends in there retrospect. Ever since his childhood days in Boston, Massachusetts as a respected scholar he set the tone with his great working ethics utilizing his skills to successfully execute this mission.
He deplores a genius method using charcoal as part of his creation and he has several originals and limited editions fine artwork in national centers across the country including his famous one of our icon Rosa Parks titled "Rosa Park- Quite courage " which is displayed in the state capital building in Washington D.C put there by former Congresswoman Diane.E. Watson, as well as several other prominent building sites through out the nation.
Mr.Rasheed is one ambitious entrepreneur with several of his artwork advocating a platform to educate and inspire generations. He set forth to launch his latest significant art work with Motown's Number one singing group- The Original Temptations whose major success erupted in the 1960's with the launch of several hits like " The way you do, the the things do" that launched there career and was number 12 on the charts in 1963, "You are my everything" and "My girl" that went number 1 on the charts on 1965. The successful group incorporated five founding members namely; David Ruffin, Melvin Franklin, Paul Williams, Otis Williams and Eddie Kendricks.
When asked how he was inspired and commemorated to work on this fine art piece of The Original Temptations he recalls by saying "They were the very best of us at that time in the music industry and I felt it necessary to preserve there legacy for our children and generations to come, and I wanted do it in the way that I know best through my artistry". "I met Otis Williams (the founder and only living legend of The Original Temparaions through his first cousin Dr Artis Woodward MD who is a friend and a collector of my work". Dr Woodward told him about my work in progress of The Original Temptations highly impressed by his cousin's remarks Otis Williams paid a visit to my studio and saw the early stages of the artwork, and was impressed with what he saw and said he would like to see it when it was completed, and when i was finished I brought to him so he could see it and when he saw it he said that he felt I had captured the spirit of them and loved it, and with that he gladly signed the original.
Jameel Rasheed success spheres the growing demand intrigued by fine art collectors across the globe including online. His fine artwork collection is certainly commendable.
Source :
Hollywood Publicist