Official Worldwide Release-International acclaimed fine artist Jameel Rasheed
Over 10 fine art exhibitions premier online with exclusive access.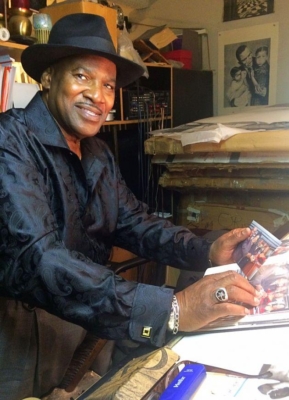 Press Release (ePRNews.com) - HOLLYWOOD, Calif. - May 03, 2017 - Compounding and intriguing we come across one of the gifted scholar and professional in the fine art industry, his exceptional assets have inspired various audiences and been definitive to critics around the world.
Born in Boston, Massachusetts over five decades ago, Mr.Rasheed is a ritual pioneer of (charcoal) artistry who has set forth on each project to capture every stage of emotion of his own work, creating composites from life experiences and the empowering legends of our cultures with historical significance. Mr.Rasheed has brought a new light on the emotional range that the industry and communities yearn for everyday including his award winning work with the iconic human rights activist Rosa Parks titled "Quiet Courage", found almost in every premier building in the nation including city hall of Lynwood California, Boston, Massachusetts, Montgomery, Alabama and the state capital Washington DC put there by former US Representative Diane.E Watson of California 33th district. He has been featured over the years in the various top media houses including the Boston Globe, NY Times, USA Today, Target media campaign, Fox News network and many more worldwide.
Jameel Rasheed's depth of creating master artwork is outstanding. He uses one of the challenging technique of charcoal and greatly concentrates on preserving African American history. Having launched his first public fine art work online on eBay this month the public is certainly going have direct access to his work including the famous "Bushman" that has historical value that launched his career.
Each of the fine art work has a special delivery with magnificent appeal to the consumer and most of all made affordable for some us with less deep pockets. These high value collectibles fine art work are finally here for all of us to enjoy including Rosa Parks-Quiet Courage.
Another reason why this is a very valuable art piece this is the only serigraph he has done. 220 limited edition and 22 artist proof have sold out.
He also done a black and white lithograph (250 limited edition 24×29 paper size) signed by the artist and autographed by Rosa Parks.Unframed (24×36 paper size-Serigraph) and framed.
35 Artist proof unframed black and white lithograph-$4500 framed (Artist Proof).
Limited Edition(unframed lithograph) starts from $4000and framed starts from $3500. Artwork done in medium charcoal.
For those admirers of the Rosa Parks historic art piece image of her sitting on a bus there is a commemorative poster he has done unsigned in black and white charcoal paper size 18.5×24 that artist upon request will sign.
Muhammad Ali -The Original signed by the Artist and signed by the Icon-Muhammad Ali costs from $150,000, Artwork done in medium charcoal.
The Original Temptation- Original signed by the Artist and signed by the Founder and only living Original Temptations Otis Williams, costs from $50,000, Artwork done in medium charcoal.
The Candyman- Originall Sammy Davis Jr costs from $30,000
A Original portrait of the original art piece titled Beauty and Movement is a portrait of the actress Alfre Woodard portraying Winne Mandela from the movie Mandela -Original costs from $30,000, Artwork done in medium charcoal.
_____________________________________
The Mighty Elephant – Original costs from $40,000, Artwork done in medium charcoal. Size 30×40 paper size Frame size 40×50
African Zebra -Original from $25,000, Artwork done in medium charcoal.
African Lion King -Original from $35,000 Artwork done in mixed medium charcoal with suggested coloring.
African Giraffe -Original from $20,000, Artwork done in medium charcoal.
For more info and images visit https://www.facebook.com/jarasheed and his company website http://www.newimagesltd.com/
Collectively these fine artwork pieces are such an asset to our global cultures.
Source :
Hollywood Publicist