HQTS Named on Strong ASEAN Brands 2020 Top 10 List – Recognising the Best Businesses in Southeast Asia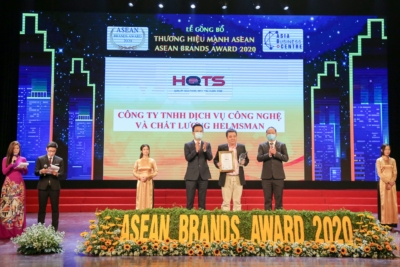 Press Release (ePRNews.com) - HO CHI MINH CITY, Viet Nam - Dec 08, 2020 - Premium third-party quality assurance company Helmsman Quality & Technology Services (HQTS) has been recognised on this year's Strong ASEAN Brands Award top 10 list following a celebratory announcement ceremony last weekend.
Each year, winners are invited to join the Ho Chi Minh event and this year's esteemed crop were announced on Saturday December 5. Robin Leong, HQTS ASEAN Marketing Manager, accepted the Award on behalf of HQTS (pictured, above) and was joined at the event by some of his colleagues from the Vietnam office.
The achievement is a significant one and comes in challenging year for the world due to the global pandemic. HQTS continued to strive for improvement and excellence in the wake of Covid-19 by adapting its business and helping Association of Southeast Asian Nations (ASEAN) clients with flexible quality solutions. The company also adjusted its service offering to provide medical equipment to businesses throughout the region.
Every year, the Strong ASEAN Brands Award aims to honour and promote companies aligned with international economic integration while creating opportunities for entrepreneurs and businesses to exchange, share, learn and associate with industry peers. It offers an opportunity to develop market expansion, product and service brand promotion to the ASEAN market.
The award win is a symbol of HQTS' commitment to providing premium quality assurance solutions throughout Southeast Asia and beyond. By delivering quality inspections, audits, product testing and a range of other services to businesses in varied industries, the premium quality assurance company will look to build on the achievement in 2021 as it continues to serve its loyal client base and gain new business across Southeast Asia and globally.
Watch the full ceremony here.
HQTS Group
+86 769 2200 9214
inquiry@hqts.com
About HQTS
With over 25 years of experience in quality assurance, HQTS is ready to help your import and export business build a robust quality assurance plan. Our many service locations are prepared to be your one-stop-shop for inspection needs. Including, production monitoring, pre-shipment and sorting inspections and everything in between. Contact us today to find out how we can help you navigate your current quality control challenges.
Source :
HQTS Group