In Theaters Now! THE FARMER AND THE BELLE: SAVING SANTALAND w/John Schneider Christmas Carol Contest
Heart-Warming Christmas Comedy Movie with Faith Values for the Entire Family (Kids to Grandparents) Three Generations. Releases in Several Hand-Picked Theaters Nationwide Nov. 19 - Dec 17.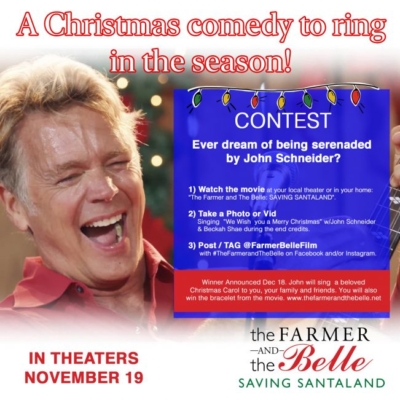 Press Release (ePRNews.com) - NEW ORLEANS - Nov 20, 2021 - The inspirational, family Christmas comedy THE FARMER AND THE BELLE: SAVING SANTALAND (TV-G) releases on the big screen today across the nation in hand-picked small-town theaters. Christmas festivities will occur at many of the locations with Christmas Caroling, Christmas Shopping, with Cast and Crew Appearances for the fun heart-warming movie inspiring #InnerBeauty ushering in the Spirit of Christmas as a community.
"Let's create a Christmas Tradition Together," exclaims actress-producer Jenn Gotzon ("Belle" in The Farmer and The Belle).
[CONTEST]  John Schneider is rallying movie-goers to nostalgia by serenading the winner with a beloved Christmas Carol. Contest begins Friday Nov 19. Winner Dec 18, 2021.
1) Watch the movie "The Farmer and The Belle: SAVING SANTALAND" at the theater.
2) Snap a selfie or video singing "We Wish you a Merry Christmas" with John Schneider during the end credits. Yup.. during the end credits!
3) TAG @FarmerBelleFilm on Facebook and/or Instagram with #TheFarmerandTheBelle (https://www.facebook.com/hashtag/thefarmerandthebelle?__e…) Voila! You are entered. (We will repost and enter you into the contest).
Theater Listing:
Reserve your seat. Tickets selling out. https://linktr.ee/farmerbellefilm
Rialto Theatre, Pocahontas, IA
11/15 – Thanksgiving
Creator's Bookstore
Chamber of Commerce and Local Church Caroling
Canton Theatre, Canton, GA
One Day Only: 11/21
Christmas Caroling by Cindy Smith and Wow Youth Group
Cast in Attendance: Amy Sutherland
Crew in Attendance: Director Wes Llewellyn with his wife, producer Amanda Llewellyn
GQT Willow Knolls 14, Peoria IL
11/19 – Thanksgiving
Ugly Christmas Sweater Contest hosted by Christian Movie Central
Celebration Cinema, Grandville, MI
11/19 – Thanksgiving
Film advisor in Attendance: Dick Rolfe (Founder of Dove Foundation)
Roxy Theatre, Northampton, PA
11/19 – 11/24
Christmas Caroling by Kidz on the Rock (Fri) and Bethany Wesleyan Church (Sat)
Christmas Shopping with merchandise from the film.
Cast in Attendance: Jenn Gotzon
Harkins Theatres
Harkins Theatres, Casa Grande, AZ
11/19 – Thanksgiving (morning showings only)
Goodruby Christian Bookstore
Harkins Theatres, Superstition, AZ
11/19 – Thanksgiving (morning showings only)
Harkins Theatres, Chandler Fashion, AZ
11/19 – Thanksgiving (morning showings only)
Digimax Theatre, Roswell, GA
11/19 -Thanksgiving
Premiere 5:30p on Friday Nov 19 / Showtime 7:00p
Ugly Christmas Sweater Contest
Cast and Crew in Attendance: Director Wes Llewellyn, Amanda Llewelyn, Livi Birch, Amy Sutherland, Jeff Rose and more
Destiny Yarbrough, Lisa Burkhardt Worley, Pearls of Promise, Jackie Carpenter, Christian Vogue and More..
Christmas Shopping by All Things Inspiration Giftique
Premiere 6,  Murfreesboro, TN
11/19 – 11/23
Artists from the Soundtrack will perform a Christmas concert for 15 minutes before each showtime.
11/19: 6pm Beckah Shae
11/20 – 11/23: Justin Peters and more.
Christmas Shopping: DeHoff Christian Bookstore
Christmas Caroling:  Nashville natives
Contest: Tiffany Ashton and Tobi Lee. Take a photo of the movie when their  song plays and @FarmerBelleFilm #TheFarmerandTheBelle and Artist's tag.
Serra Theatres,  Milpitas, CA
11/19 – Thanksgiving
Prytania Theatre, Canal Place, New Orleans, LA
11/19 – 11/22
Christmas Caroling Victory Church's Mary's Song with Landrum Talent Artists (at select showtimes).
Robinson Film Center, Shreveport, LA
One Day Only: 12/2
Christmas Caroling
Cast in Attendance:  Leah Rose Fisher (Exec. Producer) and Shreveport Native
Crew in Attendance:  Lynn Sayad (Exec Producer)
Capitol Theater of Burlington, Burlington, IA
12/3 – 12/5
Christmas Caroling
Christmas Shopping: The Word Shoppe Book and Gift
Diana Theatre, Tipton, IN
12/14 & 12/15
ABCinema, Decatur, IN
12/13 & 12/14
Pickwick Theater, Park Ridge, Il
12/10 – 12/17
Christmas Caroling
Christmas Shopping
Pre-Buy your tickets here. Tickets selling out.
https://linktr.ee/farmerbellefilm
The producers are passioned to inspire women and girls with value. Discover how connected you are to your true beauty with this quiz by Jenn Gotzon: http://truebeauty.scoreapp.com/Merchandise from the movie is  available for Christmas shopping at www.thefarmeandthebelle.net/shop