Two Actors Film Actual Wedding in Their New Movie "The Farmer and The Belle"
New Family Christmas Comedy Movie goes into Principal Photography This Fall.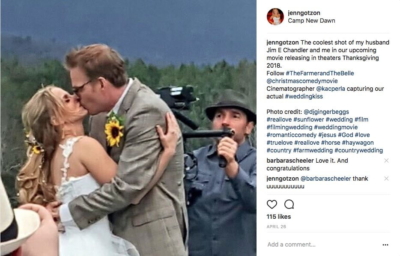 Press Release (ePRNews.com) - LAFAYETTE, Ga. - Aug 18, 2017 - Jim E. Chandler and Jenn Gotzon were married on the movie set. The best part is that it was shot on Chandler's century-old family farm and their actual wedding ceremony footage was filmed for the closing credits of their family Christmas comedy movie, "The Farmer and the Belle." The ceremony kiss will close the picture and was designed to add to its fun film trivia. Along with ongoing moments of frivolity and hilarity in both the ceremony and reception, they were created to be the highlight of the film's end credit scroll, accompanied by Christmas caroling magic.
For details on the film's status or partnership, reach out to Joel Bunkowske (award-winning entertainment attorney) at joel@bunkowskelaw.com. The family Christmas comedy movie "The Farmer and The Belle" is presently slated to hit theatres Thanksgiving 2018, being distributed by Sony Pictures Home Entertainment.
Inspired by Chandler and Gotzon's true life love story. "The Farmer and The Belle" is a family Christmas comedy movie about a NYC supermodel (Gotzon Chandler) searching for her mojo on a pig farm (owned by Chandler) over Thanksgiving weekend. Set in the deep south complete with chickens, cows, pigs, and even a horse dressed in a pink onesie, the film plays off the child's popular nursery rhyme, "The Farmer in the Dell."
"The Farmer and The Belle" is created to become the newest Thanksgiving tradition to usher in the holiday season, the theme of this family Christmas comedy movie is about a Christian world-view of real love based on Song of Solomon in the Bible between the farmer (Chandler of "Stranger Things") and his belle (Gotzon of Tricia Nixon fame in Ron Howard's Oscar-nominated "Frost/Nixon"). It's the first film simultaneously starring and being produced by the two newlyweds.
For more info, visit the official website of the family, Christmas comedy movie "The Farmer and The Belle" at www.ChristmasComedyMovie.com Site powered by Google: http://sites.google.com/view/farmer-belle-christmas-movie
Having a farm wedding, contact Camp New Dawn located in Chickamauga, GA.
Social Media.
Join the pig fun by posting your favorite farm wedding photo to www.facebook.com/TheFarmerandTheBelle.ChristmasComedyMovie @TheFarmerandTheBelle.ChristmasComedyMovie #TheFarmerandTheBelle #ChristmasComedyMovie #RealLove
(Press Release by Kari Campbell. Photo by Ginger Beggs.)
###
To interview newlywed actors Jim E. Chandler and Jenn Gotzon Chandler, contact Shelly Woods at sdi.entertainment.pr@gmail.com.
For info on partnering on our proprietary platform, contact joel@bunkowskelaw.com.
Source :
The Farmer and The Belle