Indian Independence Day Offer By Visit Singapore – Flat 15% Off on Honeymoon Packages
Visit Singapore has just announced a flat 15% off on honeymoon packages in Singapore. The offer can be availed only till 15th September. Enquire for Singapore honeymoon packages today.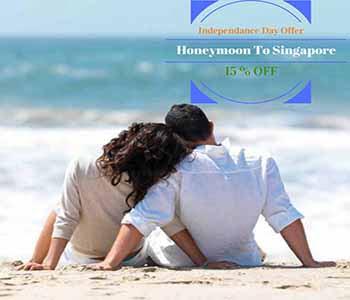 Press Release (ePRNews.com) - SINGAPORE - Aug 10, 2017 - Honeymoons are going to get sweeter with Visit Singapore announcing a flat 15% discount on their honeymoon packages. This amazing offer is ongoing till the 15th of September, 2017. Plus, you also do not require a coupon code to avail the offer. Just get in touch with Visit Singapore, and have an unforgettable honeymoon in one of the most beautiful countries in the world – Singapore.
Honeymoon packages in Singapore are quite sought after, as this nation has it all for a perfect honeymoon. Romantic getaways, hidden beaches, fine-dining restaurants, exciting attractions and classy hotels, there's never a dull moment here, especially for honeymooners.
A representative from Visit Singapore's management had this to say, "This is the season to be in Singapore. The weather is pleasant, with the occasional romantic rainfall. Our Singapore honeymoon packages have been curated for couples to enjoy the best of the island country, and feel closer to each other." They further added, "The 15% discount will tempt more honeymooners to explore this awesome destination, and the money they save can be used for other add-on tours or shopping, as Singapore is famous for its shopping opportunities."
Get The Deal here:
http://www.visitsingapore.in/singapore-honeymoon.html
Sheetal Haldar got married last year, and went on a honeymoon tour of Singapore through Visit Singapore. She had this to say, "My husband and I always wanted to see Singapore, and decided to go there on our honeymoon. From the get go, the whole tour was romantic and exciting. The attractions we got to see were amazing, and the romantic getaways too further added to the fun. My favourite part was the shopping I got to do. We applied for the GST return and even got a tax return on our shopping. Thank you Visit Singapore for making my honeymoon special."
Singapore is already a famous tourist destination, but over the years, it has also transformed itself into a honeymoon destination. There are many attractions that are perfect for couples like beaches. There are many beaches that are free from crowds. They are quietly tucked away, and are frequented only by couples. There are also small islands close to Singapore. They are just a short ferry ride away, and are absolutely perfect for a quiet picnic. There's a lot of undiscovered beauty in Singapore. And of course, there are also popular attractions like the Singapore Flyer, Night Safari, Botanical Gardens, Gardens by the Bay, and Merlion Park that you can see.
About Visit Singapore
Visit Singapore.in is one of the fastest growing tour service providers located in Pune. They are known to create custom tours, exclusively for Singapore. They have a tied up with the best tour service providers in Singapore, and have a professional support team that know how to arrange for the perfect holidays. Visit Singapore has quickly made a bankable name in the industry, so, you can trust them to provide you with the perfect holidays.
The flat 15% discount has made honeymoon packages in Singapore even more affordable, as they were already competitively priced. However, you have only till the 15th of September, 2017 to avail this offer. There's also no requirement of coupon codes. This has been done for your convenience. You just have to get in touch with Visit Singapore directly and book a honeymoon package.
Singapore is one of the best places for a honeymoon, as it has so much to offer. Through a honeymoon package, each moment of your tour will be well-planned and you will return from your honeymoon more in love with each other.
Source :
Visit Singapore.In

Business Info :
Visit Singapore.In
Punjab India