Innovative Systems Launches New IPTV Set Top Box
Unique functionality allows one Set Top Box/STB to deliver IPTV signal to four additional STBs, significantly reducing installation costs.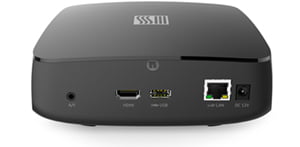 Press Release (ePRNews.com) - MITCHELL, S.D. - Aug 30, 2017 - Nearly 200 attendees at the annual Innovative Systems User Group meeting were greeted with the news by company CEO Roger Musick of a new IPTV Set Top Box with technology that will slash installation costs.
Musick announced a new wireless 4K Set Top Box, the IS-5112W, that is also an IPTV Access Point for up to four Wi-Fi Station STBs that can be IS-5112Ws. According to Musick, "Our entry into the STB marketplace is generated by customer demand for additional options and increased reliability in Wi-Fi deployments, and it is based upon the Reference Design Kit (RDK) model made popular by vendors and service providers globally."
The IS 5112W puts the IPTV Wi-Fi on its own dedicated Wi-Fi radio channel which is actively managed in real time by the Innovative Systems middleware. By creating a more reliable Wi-Fi network, this new STB will reduce wired home installs, allowing service providers a much faster return on investment.
Encryption Support for Secure TV
Innovative Systems has integrated with the conditional access and digital rights management CA/DRM company SecureTV and will provide encryption and key server support on the InnoStream™ hardware platform. Musick says the goal of this integration is to significantly reduce a service provider's encryption expenses. Another advantage of this new service is the capability of providing HLS encrypted video for smartphones and tablets without the need for additional hardware.
About Innovative Systems
With nearly 1,200 systems in service throughout North America, Innovative Systems is one of the leading suppliers of hardware and software for the independent communications market. Over 840 APMAX™ Application Servers in North America are providing crucial enhanced voice services for residential and business subscribers along with hosted solutions to manage call centers and over 80 different SIP Phone models. The new InnoStream Hardware platform provides IPTV middleware along with VOD, Cloud DVR, ReStartTV, and HLS Packaging with all software developed and supported by Innovative Systems. eLation™ is a fully integrated OSS solution that includes billing, financials, and automated staking and mapping. The Innovative Systems Print Divisionspecializes in full color printing of variable data statements and invoices in many industries including telecom, utilities, and sanitation.
For more information, please contact the Innovative Systems Corporate Office at 605-995-6120 or visit: www.innovsys.com
Source :
Innovative Systems

Business Info :
Innovative Systems
United States