International SAP Conference on Real Estate Management 2016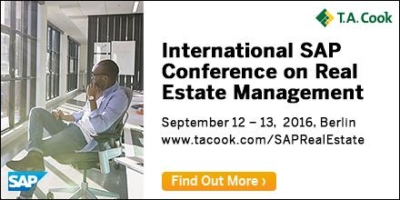 Press Release (ePRNews.com) - BERLIN, Germany - Jul 08, 2016 - "Planning for a digital future" is the theme of this year's International SAP Conference on Real Estate Management, taking place 12 – 13 September, 2016, in Berlin. To remain competitive it's essential to innovate and leverage technology that fully integrates with business unit systems and processes. During this event, attendees will discover how their business can embrace SAP innovations to become a connected, digital organization.
Attendees will uncover best practices on how to manage real estate end-to-end, visually manage assets and prepare for accounting standard. The main focus areas cover Lease Management and IFRS 16, Land Use Management, Facilities Management, Reporting and Controlling, Visual Enterprise and GEO.e, and of course, SAP and their partners will present all the latest innovations and updates.
This one day and half conference brings together leading companies including Danish Defence Estate and Infrastructure Organisation, Poste Immo, ProRail, Swiss Property, University Hospital Düsseldorf, Vodafone and many more who will share their experiences of implementing and using the SAP Real Estate Management application. In addition, COS-33, PROMOS, and SAP showcase their complementary products and services.
Now in its 11th year, the event itself is regarded as the flagship gathering for the international community, providing a one stop shop opportunity to discuss SAP Real Estate Management with peers while keeping up-to-date with the latest solutions from SAP and SAP partners.
If you are interested in joining the real estate community or would like to get involved, please feel free to contact a member of the T.A. Cook team at info@tacook.com or visit the event website: www.tacook.com/saprealestate
Source :
T.A. Cook Conferences