Investment Outlook for Boise in 2017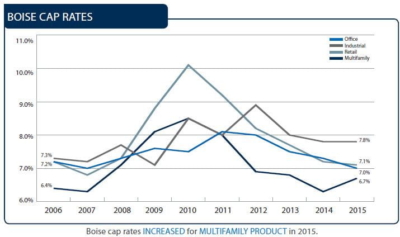 Press Release (ePRNews.com) - MERIDIAN, Idaho - Feb 14, 2017 - Demand for investment product is expected to remain strong in 2017. Buyers planning on a 1031 exchange may elect to put a replacement property under contract before marketing their current holding. This will lead to creative structuring of offers so that enough time is given to sell their current property and close on the replacement property. If 1031 exchange properties cannot be identified, investors may elect to sell while values are high and pay capital gains taxes.
With the recent bump in interest rates by the Federal Reserve, cap rates may begin to rise slightly, but a minor increase will not have a significant impact on transaction volume. In many instances, banks have already factored in the increase ahead of the Fed's announcement since they are closely tied to the 10-year Treasury bond. The new administration has mentioned that inflation may be encouraged. If this begins to occur in 2017, investors may look to put more capital into real estate, which is viewed as a safe haven for an inflationary economy.
The multifamily market will remain strong in the Boise MSA as newly developed product continues to be steadily absorbed. Rising interest rates may encourage potential first-time home buyers to wait and continue to rent, further driving up occupancy and rental rates.
*Above is an excerpt from our Year End Market Watch publication. To receive a free copy, please email info@tokcommercial.com (mailto:info@tokcommercial.com?subject=Year%20End%20Market…).
Source :
TOK Commercial