iTech announces NEMSIS support in expEDIum EMS & Ambulance Billing Software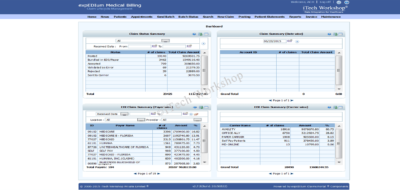 Press Release (ePRNews.com) - BANGALORE, India - Feb 08, 2017 - iTech Workshop, a leading Healthcare RCM Solution vendor with a special focus on delivering affordable secure Web-based and Revenue Cycle Management Services to EMS, Ambulance Agencies & other healthcare practices announces native NEMSIS v3.4.0 support to its expEDIum Medical Billing Software v3.5.3. The solution also supports NEMSIS v2.2.1. expEDIum EMS Billing Solution is among a few billing applications that support latest NEMSIS v3.4.0 and it is available in affordable monthly subscriptions.
The expEDIum Medical Billing (eMB) Software is used by several EMS & Ambulance Providers across the USA for several years. With NEMSIS support, EMS & Ambulance Providers are able to streamline emergency & non-emergency transport billing & manage their revenue cycle better. Patient Care Record/Trip details in NEMSIS format can be imported to expEDIum EMS Billing Solution and hence eliminate any manual data entry by users. ePCR solutions can seamlessly integrate using secure Web APIs/SOAP APIs to streamline the billing cycle using NEMSIS v3.4.0 & NEMSIS v2.2.1 datasets, and can also build own UX/UI on top of our secure RESTful APIs.
Some eMB key features are:
• Three types of billing such as Insurance, facility/contracted payers and patient billing are supported.
• Patient database, patient ledgers, extensible patient demographic fields, robust patient search etc.
• Real time & batch Insurance Eligibility Verification (IEV).
• A customizable fee schedule.
• Manage own transport facility list.
• Trips/Claims can be imported from several data formats such as NEMSIS, 837P, CSV, XML, HCFA print image & more.
• Inbuilt ambulance specific claims validation rules & scrubbing.
• Claim Review feature can be enabled on demand.
• A robust claims search module that can use to filter and manage claims.
• User friendly claim rejection & denial management feature.
• Better secondary claims visibility and billing.
• Manage paper claims effectively.
• Automated ERAs reconciliation/auto posting.
• A robust patients' statement management module.
• Over 60 readymade reports & 30+ dashboards.
• All reports can be exported to excel, pdf or csv files.
Most of the ePCR solutions are likely to support NEMSIS data format as they are expected to share EMS data to National EMS database in this format. Several states are sending EMS data set using NEMSIS v2.2.1 that was implemented in 2006, and many states have already implemented NEMSIS v3.4.0. The NEMSIS version 3.4.0 will officially become the standard version from 1/1/2018 and there could be another major revision in March 2018 and would officially become the standard from 1/1/2019.
About iTech Workshop:
iTech delivers cost effective and easy to use standards, secure, Cloud based expEDIum Healthcare Billing Solution, Claims Processing Solution & Revenue Cycle Management Services to EMS/Ambulance Providers, Medical practices, Hospitals, Ambulatory Surgery Centers, Billing Service Bureaus, IPAs, ACOs, TPAs, ASOs, and MSOs. iTech has over 1000 providers directly or through partners. iTech is the leading vendor in the Public Health Clinic space in a State along with one of its EHR Partners and this integrated solution is being used in 11 states. The expEDIum Solutions are available at monthly subscription with affordable and flexible pricing model.
Siva Narayanaswamy
Executive Director & CEO
iTech Workshop Private Limited
Phone: +1. 786.646.0099
Email: contact@itechws.com
www.itechws.com, www.expediumrcm.com
Source :
iTech Workshop Private Limited