Joe Lewkowicz Awarded Coldwell Banker's International President's Premier for 2017-2018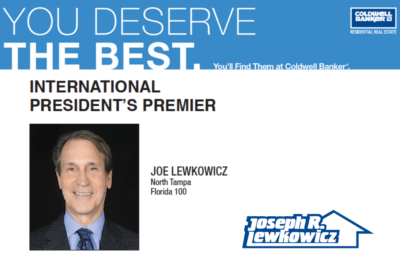 Press Release (ePRNews.com) - TAMPA - Mar 28, 2018 - For over a century, home has been Coldwell Banker's purpose. It defines the agency and everyone in the network. Their mission will never waver — to deliver the treasure of home ethically and honestly.
Each year, Coldwell Banker recognizes its top-producing agents with honors. Coldwell Banker of Florida is honored to have one agent, in particular, identified for their exceptional work throughout 2017-2018. Congratulations to Realtor Joseph R. Lewkowicz, representing North Tampa on receiving the International President's Premier Honor Award.
Joe Lewkowicz is a renowned real estate agent in the North Tampa Bay area and has been ranked as a top salesman the past seven years, making him a significant competitor with other large markets in places like New York, California, and Miami.
His hard-to-forget mantra, "No-one works harder to sell your home," has proven to be true throughout his extensive career as a real estate agent.
The International President's Premier is known to be the highest recognition an agent can receive; awarded to a Sales Associate who achieves a closed GCI of $570,000 in closed CGI or 90 closed Revenue Units. Joe Lewkowicz is ranked among the 0.5 percent of realtors in the nation and is now ranked among the top 1% of agents internationally.
Joe Lewkowicz has worked in the Tampa Bay area for approximately 40 years and works to provide the best service for his customers. He has consistently offered monthly live streams online that answer all questions relating to the North Tampa Bay market. He has now begun creating listing videos to better showcase a seller's home, highlighting its best attributes and making it easier for buyers to get an initial look. All of which contributed to earning the award at Coldwell Banker.
It is no secret that Joe Lewkowicz is a hard-working man and deserves this honor. His valiant work ethic makes him stand out to other sellers and brings unprecedented value to the company.
To learn more about Joe Lewkowicz or utilize his many valuable industry resources, please visit http://josephlewkowicz.com today!
For media or press inquiries, please contact media relations liaison Dana Blickensderfer at Info@iBossAdv.com.
About Joe Lewkowicz
With over 40+ years of experience, Joe has proven himself to be a prominent figure in the Tampa Bay Real Estate market. Selling thousands of homes throughout his career, Joe is known for his exceptional customer service, attention to detail, market-savviness, and calculated decisions. Search for North Tampa FL homes for sale on the most up-to-date Real Estate MLS in Mid-Florida at http://josephlewkowicz.com.
"No-One Works Harder To Sell Your Home!" For more information, visit http://josephlewkowicz.com.
Source :
Joseph Lewkowicz