Popular Arizona Retirement Communities 55+ Luxury Retirement Homes For Sale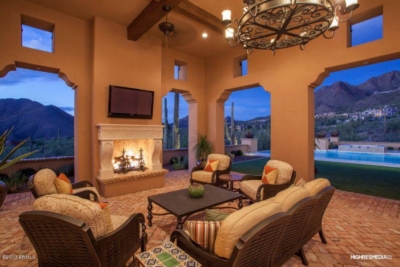 Press Release (ePRNews.com) - MESA, Ariz. - Apr 16, 2017 - I have no problem offering 20% below asking price for my buyers when discussing purchasing your retirement home here in Arizona. Please believe me when I say, the difference between an experienced Realtor, and a sub-par Realtor can seriously cost you tens of thousands of dollars, if not hundreds of thousands of dollars. When submitting offers to purchase, we must be aggressive when submitting offers. I will, and I will repeat, WILL, get you the very best price available for your new retirement home here in Arizona. With over 20 years of experience in helping people buy and sell Retirement homes here in Arizona! WWW.NICHOLASMCCONNELL.COM
Please click on the link below to view all homes for sale in the most popular retirement communities in Arizona. This map is live 24 hours a day, 7 days a week, and is updated every single second automatically for your convenience. You can click on the MLS number and/or the photos for more information on each property. You can also refine your search by clicking the edit search button. This is the best way to view homes for sale within retirement communities in Arizona. This map is 100% current, an actual live shot of the retirement community real estate market in Arizona. Please call me with any questions you may have. Nicholas McConnell 480-323-5365.
I will gladly show you any and all homes you would like to view in person. Simply give me a call so we can set it up. If there are any other areas you are interested in, give me a call, tell me exactly what you are looking for, and I will email you the results within a few minutes so you can do a bit of shopping online before we head out to physically look at properties together.
The best part about the link below is that you can perform your own searches, and the next best thing is that this map automatically updates, meaning, if a home comes on the market, it will show up on the map below, if a home is sold, it no longer shows up on the map below. This way, you do not need to constantly wonder what is available and what homes or not, this map below is literally a live shot of the Arizona Retirement Community real estate market. This service is absolutely free to all of my clients. Enjoy!
Click here for your free Arizona Luxury Retirement Community map:
http://www.nicholasmcconnell.com/Arizona_Retirement_Commu…
Nicholas McConnell with Realty One Group Luxury Real Estate is your Arizona Retirement Community Specialist. I help people buy and sell homes in the below retirement communities every single day. If you are planning on purchasing a retirement home here in Arizona, please contact me. I will get you the best price available for your retirement home here in Arizona with firm negotiations. I have no problem offering 20% below asking price for my home buyers. If you want the best price available for your home here in Arizona, let me negotiate on you behalf. The difference between an experienced Realtor like myself, and an UN-experienced Realtor can literally cost you hundreds of thousands of dollars.
480-323-5365
arizonamansions@gmail.com
I specialize in the below retirement communities:
Sun City, Sun City West, Sun City Grand, Sun City Festival, Sun Lakes, PebbleCreek, SaddleBrooke Ranch, Westbrook Village, Quail Creek, Sun City Anthem at Merrill Ranch, Robson Ranch, Sunland Springs Village, Dreamland Villa, Leisure World, Canoa Ranch, Sun City Oro Valley, Trilogy at Power Ranch, Province, Fountain of the Sun, Trilogy at Encanterra, Sunland Village East, Trilogy at Vistancia, Arizona Traditions, Ventana Lakes, CantaMia, Mountainbrook Village, Corte Bella, Sunbird, Sun Village, Terravita, The Highlands at Dove Mountain, Mission Royale, Solera, Sundance, Las Campanas, Rio Verde, Winterhaven, Solera at Johnson Ranch, Springfield, Continental Ranch Sunflower, Tonto Verde, Winfield, Del Webb at Rancho Del Lago, The Springs at Santa Rita, Sonora at Rancho Sahuarita, Rancho Resort, Bellasera, Vista View Resort, Sunrise Pointe, Solterra, Legends at Santa Rita Springs, Verde Groves, Traditions at Desert Creek, Heritage Village IV, The Links at Santa Rita Springs
Arizona Retirement Homes For Sale
Arizona Retirement Communities
Arizona Retirement Properties For Sale
Popular Retirement Communities in Arizona
Retirement Homes For Sale in Arizona
Arizona Retirement Homes Luxury Realtor
Arizona Retirement Community Specialist & Luxury Retirement Home Realtor in Arizona
Arizona Corporate Relocation Department Realtor
Commercial Real Estate Specialist
Arizona Coldwell Banker Relocation Department Realtor
BLM Permit Specialist
Stellar Airpark Estates Realtor
Arizona Bureau of Land Management Preferred Realtor
Spec Home Specialist
New Builds Expert
Horse Property Expert
White Friesian Horse Property Specialist
Estancia Foreclosures, Short Sales, and Bank Owned Homes For Sale
Club Estates In Paradise Valley, Arizona
Double M Estates
Jokake Camelback Properties
Gary Estates
Squaw Peak Vista
Arcadia Foreclosures
Camelback Lands
Arizona Foreclosures Specialist
New Build and New Construction Specialist
Mummy Mountain Real Estate / Realtor
Silverleaf at DC Ranch Realtor
Desert Mountain Realtor
Water Front Homes Expert
Golf Course Lot Specialist
Lombardi Estates
Carefree Airpark Estates Realtor
Private Jets and Private Aircraft Realtor
Arizona Homes With Hangers For Private Aircraft
Source :
Realty One Group Retirement Community Realtor

Business Info :
Scottsdale, AZ Realty One Group Luxury Real Estate
7975 N Hayden Rd. A101
Scottsdale, Arizona - 85258 United States
Phone: 480-323-5365
Website:
http://www.nicholasmcconnell.com