K-Wall Expands to Meet Demands
Local manufacturer and installer of prefabricated and poured concrete walls and foundations K-Wall is expanding their Fletcher, NC location to 18,000 square feet.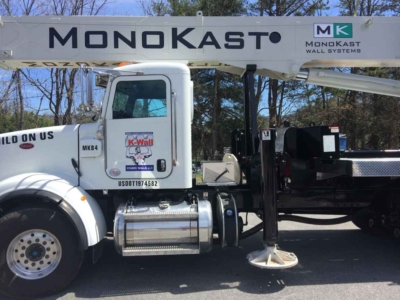 Press Release (ePRNews.com) - ASHEVILLE, N.C. - Jun 16, 2017 - Rich Kubica and Patty Kubica, Founder and Owner of K-Wall, quietly explained the journey of how K-Wall came to be and why they continue to grow.
"My dad started his concrete foundations company in Michigan 1955. It was called Kubica Foundations. Unfortunately, most people had a problem pronouncing Kubica. My mom's maiden name was Wallen. My parents decided to rename the company to K-Wall (K for Kubica and Wall for Wallen) as building foundation walls was what we did."
"My dad eventually retired and the company was closed. I went to school to become an environmental engineer, but I decided this was not for me and eventually I quit and relaunched K-Wall in May 1992. I was living in Traverse City, Michigan – the Pearl of Michigan. Traverse City is beautiful. It has white sandy beaches and blue water. We have a short warm season there."
In 1994 Rich received the Small Entrepreneur of the year award. In 1997, he met Patty. "Patty was working at American Airlines. Patty is amazing she quit her job and helped transform our company. Patty built a wonderful network of builders, associations and realtors and in less than 12 months, we had doubled our revenue." In 1999 Patty and Rich were married.
It was in 2006 that Rich and Patty decided to move to Western North Carolina. They sold their company to one of their employees, who still owns the company today. They moved in November 2006 and in 2007 decided to launch K-Wall here in NC. "A number of our team form Michigan moved to be with us here. Our company grew and in 2007 we had our best year. Then the recession of 2008 hit. We survived, though many other firms and competitors did not. In 2012, we finally saw numbers similar to those in 2007."
"During this time we co-developed the MonoKast system with MonoKast USA. What we have found to be unique, is that we're a local company, developing and manufacturing here in Fletcher. The close knot and supportive nature of the region has meant that many local builders and contractors want to work with us, as opposed to working with national manufacturers. The support of everyone here has forced us to grow, which is why we're constructing a 12,000 foot addition to our Fletcher location. When this is finished later this year, we will have 18,000 square feet."
K-Wall's consultative approach to work ot provide the best solution for their clients has gone a long way to their success.
Their success has meant they have had to invest in more equipment. One of these is their new 50 ton boom truck. When it came time to add graphics to it, one of his team suggested they use Asheville Signarama. "I called Asheville Signarama and Laura Gaines answered. She was great and worked with us to provide us what we needed. Their entire team did a great job. Today they're our go to sign shop for all of our needs."
K-Wall's consultative approach and desire to provide the best solution for their clients has gone a long way to their success. Give Rich and his team a call.
About K-Wall
K-Wall has been pouring walls since 1993 and upholds the highest standards by using the finest products and industry leading equipment. We have a solid reputation for being on time and providing an outstanding finished product. Our employees are the best in our industry, receiving continuing education on techniques and technology. K-Wall offers a full line of concrete services, including custom poured walls, MonoKast precast walls, flatwork, decorative concrete, epoxy coated floors, waterproofing, ready-to-live basements, and flooring underlayment's, including Gyp-Span® Radiant for in-floor heating systems. K-Wall hasn't just kept up with the innovations in our industry, we've lead them and have the patents and awards to prove it. In 2008 the Concrete Foundations Associations of America awarded K-Wall the Contractor of the Year Award. For more information please visit http://k-wall.com
About Asheville Signarama
Asheville Signarama is Western North Carolina's full service sign company. Asheville Signarama is an independent, locally owned company which has quickly risen to the forefront of WNC's sign needs. With over a century of experience in sign design, marketing expertise, manufacturing and installation. Asheville Signarama can tackle even the most difficult and challenging projects with amazing results. Visit http://www.signarama.com/nc-asheville
Disclaimer: This press release is for information purposes only.
Source :
Asheville Signarama