Kids Arts Corner at Dalma Mall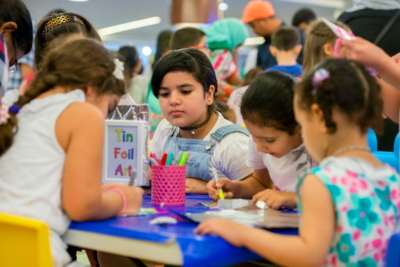 Press Release (ePRNews.com) - Abu Dhabi , UAE - Sep 07, 2017 - KIDS ARTS CORNER at DALMA MALL
Event: Dalma Mall Kids Arts Corner
Location: Dalma Mall
Date: Friday 8 September 2017
Time: 6:00 pm to 10:00pm
Visit Dalma Mall's Kids Arts Corner and enjoy fun and educational activities to boost your children's creativity, imagination, fine motor skills, concentration, as well and enhance their logical thinking, mid-line crossing, and confidence.
On Friday 8 September 2017, your kids can enjoy Sand Art/Noodle Art, Foam Art/puzzles, Magic Nuudles, Glitter Tattoos, Styrofoam wall decoration, Noodle Photo Frame Crafts, Face Mask Decoration, in addition to Tissue Paper Dot Art, Key Chain Bottle Decoration, Sun Catcher Craft, Coloring and Painting as well as Bottle Cap Necklaces, Candle Dipping and Biscuit Decoration.
Do not miss the fun at Dalma Mall Kids Arts Corner.
Dalma Mall continues to offer an engaging lifestyle filled with excitement through its summer initiatives. In July, Dalma Mall hosted Bollywood Superstars Shah Rukh Khan and Anushka Sharma for a special event where thousands of fans cheered their stars.
Numerous activations were held throughout the season. In Ramadan, the mall rolled out a 50-day 'Shop & Drive' promotion, with a unique digital draw awarding 2 Nissan Patrol Cars, Kids Extravaganza encompassed Eid-Ul-Fitr, ADSS Mega Raffle, Power Rangers Mega Force, 7-day non-ticketed Tom & Jerry Show and Cheese Maze.
Recently, Dalma Mall was awarded longest greetings card mosaic made in history.
For more information, visit www.dalmamall.ae