Get a SWISSGEAR Back To School Backpack $40 & Up Get a FREE Cinch Sack!
SWISSGEAR backpacks have always been the preferred choice of business and tech professionals, but our latest backpack styles appeal to the fashion savvy.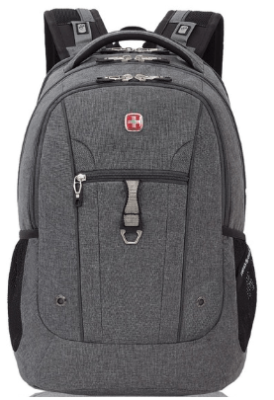 Press Release (ePRNews.com) - POMPANO BEACH, Fla. - Jul 21, 2017 - Arguably one of the most important times of the year for kids, teens, and young adults is back to school! SWISSGEAR.COM is ready to help with students of all academic levels be ready, organized, and looking sharp. We have backpacks that are exclusively made for students. We have great color and design options too! From our heather color materials to camo designs we have something for everyone to enjoy.
Best Backpacks For Back To School
As mentioned above, SWISSGEAR, makes school backpacks that designed to help students in their day-to-day grind transiting to school and moving class-to-class. Inside our backpacks we have the most dynamic storage pockets, places for each unique item. Store your laptop in the laptop sleeve, pens, erasers, pencils, and rulers all have special compartments. There's even room for your smaller electronics, water bottle, and shoes in special compartments.
Great Style, Great Confidence, Great for Teens and Young Adults
Most of the backpacks we sell are designed for a business-professional and thus best suited for teens and young adults moving into college or returning to college as part of their profession. Buy why should you buy a SWISSGEAR backpack prefered to Jansport or Herschel backpack. SWISSGEAR makes backpacks that have superior quality materials used and made to enhance your stoarge options. Below are just some of the main points that seperate a SWISS backpack from other manufactures or brands:
Benefits in Owning a SWISSGEAR Backpack
Airflow Back System and Breathable Fabric
Multi-panel airflow design for comfortable back support
Audio Interface
Media player packets and built-in headphone cord port
Self Repairing Zipper
Easily fixes itself when snagged
Shoulder Strap System and Compression Straps
Padded, ergonomically contoured straps with breathable fabric
Water Bottle Pocket
Feature Promotions
Get back into the groove-swing of things with a professional, sharp, and versatile bag with SWISSGEAR and when you spend $40.00 or more we'll throw in a Sports Bag aka Cinch Sack or SWISSGEAR wallet! Visit SWISSGEAR.COM today while this promotion still lasts!
Source :
SWISSGEAR