Pure Silk Sarees Online Shopping in India from Vijayalakshmi Silks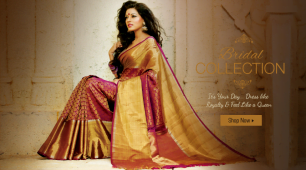 Press Release (ePRNews.com) - BANGALORE, India - Oct 13, 2016 - Vijayalakshmi Silks and Sarees are an illustrious heritage brand that has been in the business of Indian traditional wear since 1920. With a journey of growth spanning nine decades, the company has been one of the oldest retailers for woven Indian sarees in the offline space for decades.With its website launch, Vijayalakshmi Silks hopes to replicate its success, becoming one of the top online shopping sitesfor Indian wear and broadening its reach to today's audiences who spend much of their time virtually. Combining traditional values of trust and integrity with present day styling and bespoke designs, their exclusive traditional and woven collection presents original fresh ideas to modern Indian women. Vijayalakshmi Silks manufacture much of their clothing themselves while also sourcing raw materials and designs from various parts of India. Vijayalakshmi Silks are the manufacturers, wholesalers, and retailers of silk sarees of different types woven at different parts of India. Their Silks sarees are made from high quality raw material and have always been in great demand among Indian women for their bridal trousseau. Vijayalakshmi Silks currently retails their sarees and traditional Indian wear at stores across Bangalore in MG Road, Jayanagar, Malleshwaram and Mall of Mysore in Mysore.
With its niche online shopping platform, Vijayalakshmi Silks hopes to give buyers an improved selection of products with more care in quality and design. The website has been created to give women a shopping experience that is very personalized, help them choose from handwoven and authentic fabric sourced across India and an ease of selecting clothing with variety and manifold designs. Customers can purchase sarees ofdifferent materials including Silk, Georgette and Jamdhani, in various designs and motifs, book their purchase, pay online and have their sarees delivered right at their doorstep. With the unique Silk Mark Certificate, they are assured of Silk Purity and the latest in saree designs at competitive prices.
Vijayalakshmi Silks and Sarees currently retailsat outlets in Bangalore's popular shopping areas and its online portal is accessible across the globe, with verified and secure international shipping options. The brand is a trusted name in Indian traditional wear, and features a bedazzling and mind-boggling variety of products across segments that not just attract customers but also supports the weaving community in India. The sarees, customized blouses and accessories can be bought online withcash on delivery option. They promise quality that matches with customer expectations, akin to a 'touch and feel' experience.
Among their various collections of woven traditional sarees are Uppadas, Gadhwals, Jamdhani and Patolas. Their Banarasi Silk Sarees and Kanchipuram Silk Sarees are the fastest selling and a very popular line of products. Designed from pure silk and carrying the silk mark, the sarees are available in a multitude of original and traditional designs, cater to different occasions and are trendy and fashionable. All the designs and patterns by VLS are well researched and curated to ensure customers create unique collections that are a reflection of themselves. Tradition is at the soul of Vijayalakshmi Silks and the company prides itself on curating exclusive bridal collections with superlative quality and fresh designs.
Besides sarees, Vijayalakshmi Silks also presents a fresh range of bespoke designer blouses in three categories – designer, embroidered and velvet. They are made from superior quality fabrics and designed as per the fit and cut of Indian silhouettes. Indian suits, clutches, materials and accessories are the other products that are retailed from their online saree store.
Vijayalakshmi Silks and Sarees are also wholesale retailers and have through the years created a dedicated following of customers who vouch for their products. Through their sarees, they have ensured that the traditional garment has never really gone out of style. VLS recently showcased their silk saree designs during the 3rd season of Mysore Fashion Week, an annual fashion extravaganza held during September every year. This event garnered them immense industry support. VLS has also taken part in events such as the AKKA 2016 held at Atlantic City, USA and hopes to reach out to a wider clientele through such curated fashion events.
About Vijayalakshmi Silks:
Since 1920 Vijayalakshmi Silks and Sarees – a name synonymous with quality and authenticity in the business of sarees and illustrious journey over nine decades. It presents old favourites like Kanchipurams, Banarasis, Uppadas, Jamdhani, Kathan, Patola and many more. Also along with a range of Chiffons, Crepes, Georgettes, Designer Sarees, Silk and Cotton Dress Materials, Silk stoles and scarves.
Vijayalakshmi also prides itself on an Exclusive Bridal collection with original and fresh designs, the quality being superlative and pricing being absolute value for money. Increased demand of their quality has led to the opening of Vijayalakshmi Expressions brand on Ashoka Pillar Road in Jayanagar, at Mantri Square Mall on Sampige road in Malleshwaram and in Mall of Mysore.
Visit your store in online to know more about Silks Sarees @ http://www.vijayalakshmisilks.com/
Source :
Vijayalakshmi Silks and Sarees