Last Opportunity At TRI Pointe Homes' Parasol In Fremont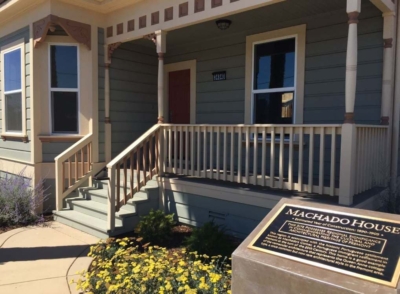 Press Release (ePRNews.com) - FREMONT, Calif. - Mar 31, 2017 - Only a few opportunities are available to own a new home at beautiful Parasol in Fremont, with just three models and the historic Machado House — remaining for purchase.
"We are happy to see so many families settling into the Parasol community. All of the current models available for purchase are professionally decorated and upgraded, turnkey and ready for a family," said Susan Cleary, Marketing Manager for TRI Pointe Homes. "And it's also exciting to think of who will soon make the Machado House their home."
Featuring a choice of three-story floor plans in beautifully-designed attached homes, Parasol's sophisticated designs include up to four bedrooms and interior living space that ranges from approximately 1,835 to 2,242 square feet.
Private 2-car garages with storage area, along with balconies and decks are included, depending on the plan. And TRI Pointe Homes' LivingSmart® model embraces sustainable, high-efficiency conservation, durability, health, comfort and savings.
Indeed, the innovative townhomes at Parasol have been something of a hot commodity for homebuyers wishing to jump into life in the thriving community of Fremont on the southeast side of the San Francisco Bay.
The Machado House dates back to when immigrants first settled into the area, according to Cleary. TRI Pointe Homes was an active partner in a restoration process that included preserving the original design of the property and incorporating its history into the contemporary energy that defines Parasol.
"Fremont is one of the most exciting, richly-layered metropolitan hubs in all of Northern California, so it's no wonder that Parasol has received such an exceptional response from homebuyers," said Cleary.
Fremont draws a diverse population to its universities, shopping areas, recreation, cultural activities, employment centers, major airports and the Bay Area Rapid Transit system, Cleary added.
TRI Pointe Homes' Parasol is open by appointment only, call (925) 822-2644 today for your personal tour. Learn more by visiting http://www.tripointehomes.com/northern-california.
TRI Pointe's communities are located throughout Alameda, Solano, Santa Clara, Contra Costa, and San Joaquin counties.For a complete listing of locations, visit http://www.tripointehomes.com/northern-california.
With a growing number of new home communities throughout Northern California, TRI Pointe Homes, Inc. is a member of TRI Pointe Group, headquartered in Irvine, California. The company is one of the top 10 largest public homebuilders by equity market capitalization in the United States, supported by the significant resources, economies of scale and thoughtful leadership of a national foundation. Additional information is available at www.tripointehomes.com/northern-california.
Source :
TRI Pointe Homes