Long Beach Senior Squadron 150, Civil Air Patrol Announces Officer Promotion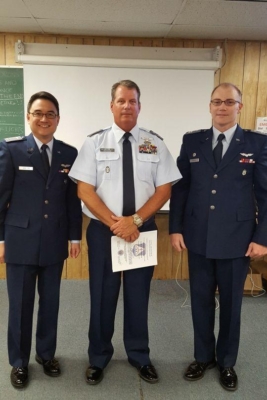 Press Release (ePRNews.com) - LOS ALAMITOS, Calif. - Mar 19, 2017 - Long Beach Senior Squadron 150 is pleased to announce the promotion of SM Gary N. Mathieson to the grade of Captain in Civil Air Patrol (CAP). Mathieson became a member of CAP in 2016 to, "Continue my service to the nation; to be with other committed professionals and to continue wearing an Air Force Uniform."
In addition to his service in CAP Mathieson is currently a Staff Sergeant in the USAF Reserves (USAFR), where he has served for 12 years. During his tenure in the USAFR Mathieson has served for three years as a C-141 Loadmaster, six years as a C-17 Loadmaster and four years in Combat Camera. Prior to his service in the USAFR, Mathieson was a Seabee for eight years in the US Navy Reserves (USNR).
In his civilian life Mathieson has been a teacher for 23 years-having taught both physical education and special education during his career. He holds a Masters Degree in Special Education, which combined with his squadron role as an Aerospace Education Officer, qualified him for an advanced promotion from Senior Member to Captain. Mathieson also serves as Squadron 150's historian and is currently in training as an aircrew Mission Scanner.
___
Civil Air Patrol, the longtime all-volunteer U.S. Air Force auxiliary, is the newest member of the Air Force's Total Force, which consists of Regular Air Force, Air National Guard and Air Force Reserve, along with Air Force retired military and civilian employees. CAP, in its Total Force role, operates a fleet of 550 aircraft and performs about 85 percent of continental U.S. inland search and rescue missions as tasked by the Air Force Rescue Coordination Center and is credited by the AFRCC with saving an average of 70 lives annually. Civil Air Patrol's 58,000 members nationwide also perform homeland security, disaster relief and drug interdiction missions at the request of federal, state and local agencies. Its members additionally play a leading role in aerospace education and serve as mentors to more than 24,000 young people currently participating in the CAP cadet program. Civil Air Patrol received the Congressional Gold Medal in 2014 in honor of the heroic efforts of its World War II veterans. Congressionally chartered 74 years ago, the nonprofit organization also participates in Wreaths Across America, an initiative to remember, honor and teach about the sacrifices of U.S. military veterans. Visit http://www.capmembers.com for more information.
Long Beach Senior Squadron 150 is a part of California Wing and South Coast Group 7. The California Wing includes 3,000 senior members and cadets, and South Coast Group 7 encompasses six squadrons in Orange County, California.
Long Beach Senior Squadron 150 is composed entirely of adult members (aged 18 and older) and meets every Thursday from 7:30pm-9:30 pm at the Los Alamitos Joint Forces Training Base and visitors are always welcome. The address is 3976 Constitution Avenue Los Alamitos, Calif. For more information visit https://sq150.blogspot.com/
Source :
Long Beach Senior Squadron 150

Business Info :
Long Beach Senior Squadron 150, Civil Air Patrol
3976 Constitution Avenue
Los Alamitos, California - 90720 United States
Website:
http://www.sq150.org