Scottsdale Leadership announces Class XXXII
Non-profit Program Creates Pipeline of Leaders for Community Impact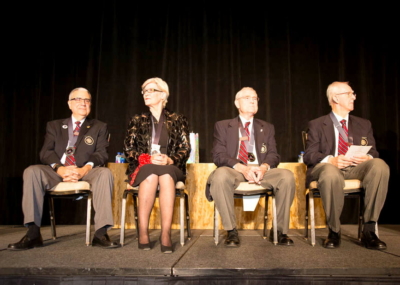 Press Release (ePRNews.com) - Aug 31, 2017 - Scottsdale Leadership, Inc., is pleased to announce participants in its 2017-18 Core Program. Now in its 32nd year, the program provides community leadership education for individuals committed to community service and civil dialogue.
Scottsdale Leadership and its alumni are consistently sought out to engage in grassroots initiatives and community conversations regarding the future and growth of our city. Alumni have had a significant impact on not only the city of Scottsdale, but throughout the Valley and the state of Arizona.
"Scottsdale Leadership continues to draw outstanding candidates for its Core Program, and class members are selected to represent a diverse group across many criteria," says Margaret Leichtfuss, executive director.
Scottsdale Leadership is pleased to introduce Class 32:
Elizabeth Apodaca, Mayo Clinic, Physician Liaison
Scott Bartle, President, Outside the Box Marketing
David Black, Banking Officer, FirstBank
Lauren Burgoyne, Founder and President, The Greater Purpose Project & Inspired Mojo Media
Taylor Buttrey, Creative Arts Manager, Scottsdale Training and Rehabilitation Services
Erika Coombs, Director, Stifel
Andrea Davis, Designated Broker, Andrea Davis CRE
Brendan Denker, Sustainability Analyst, Salt River Project
Alison Diaz-Mountford, Operations Manager, State Farm
Amir Dorn, Principal, Real Estate Investor/Entrepreneur
Jeff Ertel, Strategic Advisor, Chapter 3
Nima Faghih, Regional Banking District Manager, Wells Fargo Bank
Amy Ferrari, Director of Resident Services, Vi at Grayhawk
Wes Frank, Division Manager, Vector Marketing/Cutco Cutlery
Christine Goodman, Director of IT, Nationwide Insurance Company
Matthew Healy, English Instructor, Scottsdale Community College
Don Henninger, Executive Director, SCOTT
Lakisha Holley, Accounts Executive, Heasley & Partners
Mary Jo Hopper, Director of Account Management, American Traffic Solutions
Robert Houston, E & S Operations Director, Nationwide E&S/S Insurance Company
Mitchell Hundman, Vice President, Hundman Wealth Planning
Jason Irvin, Director of Distribution & Logistics, Plexus Worldwide
Dean Keltner, Commercial Account Executive, Wells Fargo Insurance Services
Regina Kirklin, Enterprise and Financial Director, City of Scottsdale
Robert LaMacchia, Financial Advisor, Clark & Associates Financial Services
Laurie LaPat-Polasko, Principal, Ramboll Environ
Todd Larson, Network Director Community Partnerships, HonorHealth
Joe LeDuc, Commander, Scottsdale Police Department
Theresa Lioce, Vice President, Private Bank, National Bank of Arizona
Jennifer Maggiore, CEO, Red Balloon Social Media
Rayner Matthews, Senior Consultant, Aetna, Inc.
Scott Meyer, Realtor, RE/MAX Signature
Beth Mitchell, Manager- Corporate Partnerships, American Express
Trishanna Moeck, Senior Computer Systems Analyst, Salt River Project
Witta Payackapan, Financial Advisor, Morgan Stanley
Michael Pearson, Marketing Manager, Neighborhood Outreach Access to Health (NOAH)
Stephanie Pressler, Community Affairs Manager, Experience Scottsdale
Marie Reed, Senior Consultant Business Program Management, Nationwide
Lucy Roth, Retired, AIG
Michael Sheedy, Director of Risk Management, Salt River Materials Group
Katie Smetana, Vice President-Operations, Valley of the Sun YMCA
Bernadette Smith, Content & User Experience Strategist, Riester
Scott Sowinski, Architect, Dekker/Perich/Sabatini
Monica Staats, Senior Management Analyst, City of Scottsdale
Cheri Valentino-Fox, Vice President, Scottsdale Area Chamber of Commerce
Lindsey Wallace, Director of Operations, Arizona Sun
The Core Program starts Sept. 22 with a curriculum that includes economic vitality, community stewardship, education, human services and the arts. Each graduating class of Scottsdale Leadership provides an immediate positive impact on the Scottsdale community through its Lead It Forward project.
Since 1986, Scottsdale Leadership has graduated nearly 1,100 individuals who are prepared to take on leadership roles across our communities. Through powerful, transformative experiences during its leadership development programs, Scottsdale Leadership enhances the ability of leaders and creates engaged citizens who ensure a sustainable future for our community.
For more information call Scottsdale Leadership at 480-627-6710 or visit www.ScottsdaleLeadership.org
Source :
Scottsdale Leadership, Inc.