Managing Director of Appinventiv, talks about the Growth & Trends of Mobile App Development in 2017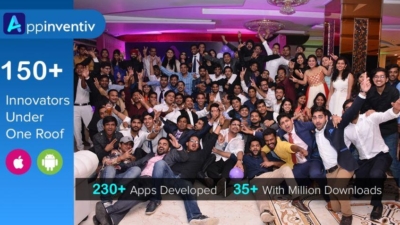 Press Release (ePRNews.com) - NOIDA, India - Dec 02, 2016 - There is widespread proliferation of mobile devices all over the world. This is particularly true for both the business owner as well as the digital marketer, who wants to capitalize on this excellent opportunity to grow their business.
Technologies are about to change the very way, we live our lives. The new technology based advancements and the enhanced programming paradigms will bring about a change in the mobile development and the app development companies.
The number of apps that are displayed in the Google Play or the Apple App Store are exceedingly increasing and more and more users are thriving on the mobile apps, while using them for their daily routines. This growth in terms of mobile app development is not to be slowing in the near future.
The app development is not just happening for the smartphone devices only. There are a wide variety of devices such as connected homes, smart cars and wearables and many such more on which we see increase in the number of app development. The global revenue for mobile apps will grow by 962.5 % by 2017.
The trend in mobile app development is happening at a rapid pace and it is not going to wane too soon. We see newer technology advancements are arriving everyday and some of the older technologies are replaced with the new.
The Managing Director of Appinventiv, Prateek Saxena says " We see an increasing trend towards building Smart apps based on Artificial Intelligence(AI). We will see more of the AI based chatbots endeavouring to replicate human interactions. Infact, AI and chatbots are about to change the landscape of the apps".
He also says "The IoT based applications are equally important for the mobile app development companies which are applied in smart homes and office automation space, these smart technologies will be central to how we lives in future"
The app development trends for 2017 is about to see a revolutionary change in the Augmented and Virtual Reality fields (AR and VR). This technology will not be just be restricted to the gaming industry, but are about bringing an effect on myriads of sectors like retail shopping right upto the distance learning programs in education. Another trend on app development in 2017 is based on the location-based services, with iBeacons, providing real-time information on deals and offers.
You may contact us to find out more information about the kind of projects we undertake in mobile app development based on the app development trends: https://appinventiv.com
About Appinventiv
Appinventiv, is the fastest growing mobile app development company (https://appinventiv.com/mobile-application-development) that has curved a niche in the app development market, offering a mobility solution that applying to devices such as Android, iOS, iBeacons, Wearables and IoT, and more trending industry segments. They believe in making powerful business apps for their clients, which offers a resolution of their business problems, delivered at a faster pace.
Source :
Appinventiv