Masterpiece Design Group Completes Model Home Center at New Lakefront Resort Community in Sarasota
The full-service Winter Park firm designed a three-home sales center named after famous artists for luxury homebuilder Kolter Homes and its new 400-acre Artistry community in East Sarasota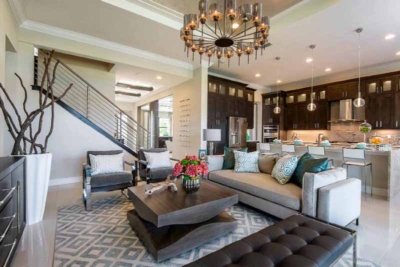 Press Release (ePRNews.com) - SARASOTA, Fla. - Jun 28, 2017 - – Masterpiece Design Group, an award-winning, full-service design firm which has provided professional services for many of the country's major homebuilders, has completed its latest design project for Kolter Homes' first single-family residential venture in Sarasota.
The 19-year-old, Winter Park-based company completed the design and installation for three-home model homes at Kolter's sales center at Artistry, a sprawling 400-acre, resort-style lakefront community rich in amenities located five miles east of Interstate 75 between Fruitville and Bee Ridge roads.
Designed specifically for Artistry by Masterpiece's nationally acclaimed Model Merchandising Division, the models from Kolter's Portrait and Watercolor collections were unveiled earlier this month at the community's grand opening which drew record crowds and "overwhelming" Internet inquiries.
Kolter, one of the Southeast's largest residential developers and homebuilders with communities in Florida, Georgia and the Carolinas, is introducing 11 different luxury floor plans at Artistry, with prices ranging from the $390s to the $600s.
Artistry represents the latest venture between Masterpiece Design and Kolter, says Masterpiece President and COO Christy Scanlon.
Earlier, the two industry heavyweights teamed together on Kolter's residential developments in Palm Beach and Volusia counties called Alton and Victoria Park, respectively, with great success.
Masterpiece, which has collected more than 50 industry awards over the years for its design and model merchandising endeavors, has introduced a variety of design styles aimed at impacting Kolter's target buyer market of working professionals, families and active adults all drawn to Sarasota's claim of being one of nation's most desirable places to live (No. 13, according to U.S. News & World Report magazine.)
Masterpiece designed two models from Kolter's Portrait Collection – the Van Gogh and the Chagall – and one from its elegant Watercolor Collection – the Martin, a three-bedroom, 4 ½-bath plan featuring 4,163 square feet and priced at $634,900.
"Our primary objective with our Model Merchandising approach is to not just make the homes look appealing and captivating but to have a profound impact on sales by effectively reaching our client's buyer demographics," says Scanlon. ""That is especially important here in Sarasota which is easily one of the state's most competitive housing markets."
And, with many of the builder models it designs, it's not unusual for Masterpiece to work with homebuyers after they purchase a home to "re-capture that design look."
All three models received outstanding reviews, according to Kolter Project Manager Steve Benson.
Masterpiece's Model Merchandising Division, one of four entities under the corporate umbrella, is responsible for the design of builder model home centers, sales offices and community clubhouse/amenity centers and has been a major staple in the company's spectrum of design services because of the role it has proven to play in driving home sales..
Since commencing operations in 1998, Masterpiece has evolved into one of Florida's premier full-service design companies. Today it serves a diverse clientele in most of the state's major metro markets, including Sarasota-Bradenton, Orlando, Tampa, Jacksonville and South Florida, as well as key markets in the Southeast and Midwest. It also provides individual services to private clients throughout the United States.
Masterpiece has provided professional design and model merchandising services for a long line of industry leaders in addition to Kolter Homes. That resume includes Lifestyle Homes, GL Homes, Dream Finders Homes, Greenergy Homes, Silliman Homes, Royal Oak Homes, AV Homes, Lennar Homes, M/I Homes, and Chicago-based Crown Development Group.
http://www.masterpieceinteriors.com
Source :
Masterpiece Design Group