Mattamy Homes RiverTown Wins Three Laurel Awards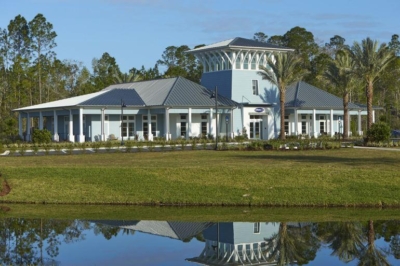 Press Release (ePRNews.com) - ST. JOHNS, Fla. - Mar 31, 2017 - Mattamy Homes RiverTown received three Laurel Awards honoring design and marketing excellence from the Northeast Florida Builders Association Sales and Marketing Council.
The Laurel Awards include the Best Sales Center over 1,000 square feet for The RiverTown Welcome Center, Best Floor Plan for the Saxon II ($625,001-$650,000 category) and Best Elevation Design for the Wales ($450,001-$500,000 category.)
The RiverTown Welcome Center represents Mattamy's signature design style and is the largest community welcome center the national homebuilder has built to date. Located near Mattamy's six new decorated model homes, the welcome center is a perfect first-stop for visitors, offering information on RiverTown's neighborhoods, home designs, amenities and the community's lifestyle.
As demonstrated in the Saxon II, Mattamy Homes' commitment to thoughtful design that maximizes the functionality and feel of the home's living space. Marketed to Savvy Suburbanite families including empty nesters and empty nester wannabes who still have adult children at home, the Saxon II floor plan offers flexible spaces and multiple options for customization so the home can best meet the needs of a family's lifestyle.
Distinctive architectural style and Mattamy's signature approach to design, which prioritizes how people live, is highlighted in the Wales Farmhouse. Marketed toward trendsetting professionals and families in their early to mid-30s, this beautiful five-bedroom, four-bath home shines with exceptional quality and attention to detail.
"I am honored to receive this prestigious recognition from NEFBA and our colleagues in the building industry on behalf of Mattamy Homes RiverTown," said Jason Sessions, VP, Land Acquisition and Development, Mattamy Homes. "The Laurel Awards honor the best in design and marketing and these awards reflect our community's tremendous success. Mattamy Homes RiverTown is the only new master-planned community in St. Johns County along the St. Johns River. I invite everyone to visit us soon and see all that we have to offer."
The RiverTown Welcome Center is located at 90 Lanier St. in St. Johns. To visit the RiverTown community, travel Interstate 95 to County Road 210 West to Greenbriar Road and turn left at Long Leaf Pine Parkway. The Welcome Center is located on Long Leaf Pine Parkway just past Bartram Trail High School. Visitors can also take I-295 to San Jose Boulevard South, turn left onto Greenbriar Road and then right on Long Leaf Pine Parkway. For more information, visit, http://www.MattamyRiverTown.com.
Source :
Mattamy RiverTown