Meet Cubetaxi: The best clone of Uber Taxi App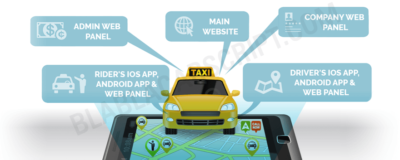 Press Release (ePRNews.com) - AHMEDABAD, India - Mar 29, 2017 - The on demand concept and its subsequent technology has opened a door for millions of entrepreneurs and developers throughout the world. One company who has capitalised on this concept is Leenox Technolabs, a company that started its humble beginnings in a little flat. The company was set up in 2005 by three technical musketeers who decided to try their hand in the world of website development and design. Since its conception, there has been no looking back for this company, and they have moved from strength to strength, both in terms of business as well as location. Today they boast of a plush office in the modern Mondeal Square, after years of hard work, working on over 880 responsive websites, and developing over 200 mobile applications on platforms like Android, Windows and iPhone.
In 2014, the company decided to test the uncharted waters of an industry that was just beginning to find its feet, the mobile application industry. However, the aim of the company was to design apps using the share economy concept with a view to reducing the global carbon foot print.
Such was their success with these products that today Leenox Technolabs is all set to launch the latest armour in their arsenal of on demand products, Cube Taxi. It is an on demand app that is a clone of the famous Uber Taxi App, just that it is bigger and better. Just like their other on demand products, this product will also take the world by storm with its unique features and versatility.
The taxi app like Uber is a set of two apps, the driver app and the passenger app and a robust admin panel. The driver app and the passenger app are used for facilitating easy communication between the two. The passenger can search for book a ride by tapping on the app and the driver can confirm the ride by doing the same. Fully automated and cashless, yet brings in huge revenues for the owner.
This app is the perfect solution of any budding entrepreneur who wants to dabble in the business world. It is also ideal for that housewife who wants to earn a living but cannot because she has to look after her family. This app offers her the perfect work-life balance whilst giving her that much needed financial independence and freedom.
This business can be set up in just two days with Leenox Technolabs doing all the hard work for you, including configuring, installing and launching. They will also provide free support for minor bugs for one year. You can use their code as a base and get your site customised exactly as you want it. The script has unique features that enable it to be launched in any part of the world, from America to Australia. The app can also be customised in the language and currency of the launch country.
This app can be run on all smart digital assistants that are supported by the Android and iOS platforms.
To check out how the passenger and driver apps work on the Android platform, click on the link below:
http://www.google.com/url?q=http%3A%2F%2Fwww.uberappclone…
You can also see how the same apps work on the iOS platform by clicking on the link below:
http://www.google.com/url?q=http%3A%2F%2Fwww.uberappclone…
Cubetaxi is definitely the app for anyone who wants to start their own taxi business or modernise their existing one.
Leenox Technolabs have pulled all stops to give their clients an Uber Taxi app that has been designed with dedication and passion using the latest state of the art technology.
Source :
Leenox Technolabs

Business Info :
Leenox Technolabs
Canada