Michael Pybus at Castor Gallery
In 3D the basil never wilts: Remixed with Keith Allyn-Spencer, Huey Crowley, Bradford Kessler, David Kirshoff, Gino Saccone, Sydney Shen, Sydney Shen, Alex Ito, Faina, Kayode Odo, Chris Rice, Ian Swanson & Royal Jarmon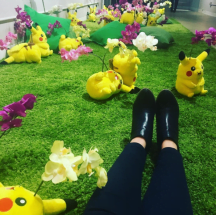 Press Release (ePRNews.com) - NEW YORK - Mar 17, 2017 - Castor Gallery Downtown is pleased to anno​ u​ nce ​In 3D the basil never wilts by British artist, Michael Pybus. Along with recent paintings, Pybus will install his indoor Pikachu Orchid garden in which visitors are welcome to sit and relax. This installation will be remixed with a selection of work curated by the artist including pieces from Keith Allyn-Spencer, Huey Crowley, Bradford Kessler, David Kirshoff, Gino Saccone, Sydney Shen, Alex Ito, Faina, Kayode Odo, Chris Rice, Ian Swanson and Royal Jarmon.
The exhibition will run from ​March 2 through April 2, 2017 ​with an opening reception on​ Thursday March 2nd at 254 Broome St NY, NY from 6-9 PM.
Throughout Pybus' practice he liberally samples from global brands, icons and franchises, utilizing collective familiarity to then re-narrate and manipulate into his own personal vocabulary.
Pybus' ​In 3D the basil never wilts is comprised entirely from IKEA products and soft toys in the form of Pikachu – a character Pybus has continually worked with and sampled for over a decade. He utilizes Pikachu, in part as an icon of consumerist thirst, engineered to never be fully quenched. His works often incorporate IKEA products and imagery, a brand which he is drawn to due to its global reach and ubiquitous, almost viral presence in our day-to-day lives.
The title of the work comes from an IKEA article about their increasing use of CGI in their catalogues –75% of which is computer generated imagery. The company are quoted saying 'In 3D the basil never wilts' referencing the fact that creating their products virtually reduces the huge costs associated with merchandising the physical items for their print media. We are now at a point in technology where it is now close to impossible to tell the difference between a photograph of a sofa and a CGI generated image of one – creating a hyperreal blur where our senses can be deceived.
For this presentation Pybus has chosen to integrate his curatorial practice into the installation, with the inclusion of a group of selected artist's work, a collaborative gesture he often integrates into his exhibitions. This practice stems from his previous curatorial project WELCOME SCREEN (​www.welcomescreen.biz​), a gallery founded by the artist, employing global social networking tools to nurture and develop a series of exhibitions with international artists. This will be the 3rd staging of ​In 3D the basil never wilts and the 1st time it has been shown in the US.
About the Artist:
Michael Pybus (UK, 1982) lives and works in London. Themes of consumerism, collecting and obsession are prevalent throughout his work. Sampling from pop cultural and art historical references, Pybus explores the role of abundance and obsession in contemporary consumer culture. Reflecting on how individual desires and needs are reconfigured through mass production and marketing. Pybus' recent solo exhibitions include CRUMPLE ZONE Tatjana Pieters Ghent, Karaoke Carl Kostyal Stockholm with forthcoming solo exhibitions at The Depart Foundation LA and Jonathan Hopson Gallery Houston.
About Castor Gallery:
Castor Gallery is located in New York's Lower East Side & Chelsea neighborhoods, and specializes in contemporary art from American, and international emerging and mid-career artists.
http://www.castorgallery.com/#/
Source :
Castor Gallery