Mini Mania & Don Racine Target Assault on Can-Am Mini Challenge Vintage Races
Up to 7 proven champions set to race a fleet of Classic Mini Coopers entered by Mini Mania, the leading supplier of restoration and performance parts for both the original Classic Mini and now the new generation of BMW MINI Cooper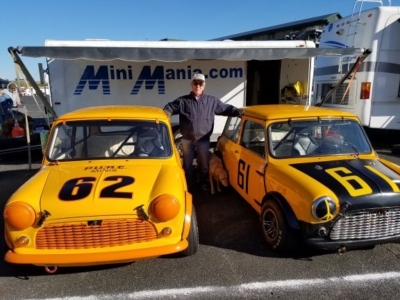 Press Release (ePRNews.com) - NEVADA CITY, Calif. - Jul 20, 2017 - California's Mini Mania owner/founder Don Racine is launching an all-out assault on the prestigious Can-Am Mini Challenge this September with a fleet of vintage Classic Minis featuring race and championship-winning cars spanning some five decades of competition.
The Can-Am Mini Challenge is the featured Marque in California's 14th Annual Charity Challenge Vintage Car Road Races at Sonoma Raceway Sept. 29 – Oct. 1, sanctioned by the Classic Sports Racing Group (CSRG).
Mini Mania's Don Racine,72, is currently assembling a team of up to four American and three European veterans to contest class wins in the legendary Mini Coopers. Racine has over 40 years of racing experience and won dozens of Mini Cooper races at such legendary circuits as Sonoma, Indianapolis, Coronado, and Laguna Seca along with many more victories in other cars and categories.
"We'll soon be announcing an international team of winning Mini race drivers to pilot as many as seven cars at the Sonoma Can-Am Mini Challenge, and we expect fierce competition from numerous experienced and race-winning competitors," Racine explained. "We plan to put on a good show for the charity event and British car enthusiasts everywhere."
Racine and his son, Dennis recently finished in the top two positions at Sonoma Raceway during the SVRA vintage races in early June with their championship-winning Mini Coopers originally raced in the 1970s. https://www.facebook.com/sportscarvintageracing/videos/85…
Up to two dozen Mini race cars are expected for the 2017 Can-Am Mini Challenge which can trace its roots to the original Can-Am Mini Challenge Vintage Races organized by Mini Mania in 2001 at Laguna Seca in Monterey, CA.
These British designed cars popularized front wheel drive and other innovations and were in worldwide production from 1959 to 2000, launching the careers of many professional race drivers worldwide. Sales totaled over 5 million cars.
Mini Mania continues today as a leading supplier of restoration and performance parts for both the original Classic Mini and now the new generation of BMW MINI Coopers. The Internet-based business is based out of Nevada City, California.
About Mini Mania
Mini Mania is located in the heart of the Gold Country in Northern California's Sierra Nevada
Foothills and has been in the business of providing parts and accessories for the original Classic Mini Coopers since 1974. As a result Mini Mania is the largest U.S. supplier of parts for the Classic Mini and developed performance parts for the new BMW MINI Cooper and Cooper 'S' in 2001. This was a year before the car was released in this country. Mini Mania continues as both enthusiasts and leaders in providing parts and accessories for the BMW MINI Coopers. http://www.MiniMania.com
About CSRG
Northern California's Classic Sports Racing Group, currently celebrating its 50th season, will hold its 14th Annual Charity Challenge at Sonoma Raceway on the weekend of September 29-October 1, 2017. The event includes all the usual CSRG race groups with Vintage and Historic race cars dating from the 1930s to the 1990s running in nine race groups. Featured is the Can-Am Mini Challenge for the original Austin Mini and its variants, as well as the final round of the 2017 Crossflow Cup celebrating the 50th anniversary of Formula Ford.
In its first thirteen years, the CSRG Charity Challenge Series raised almost a million dollars in contributions to the Sonoma Chapter of the Speedway Children's Charities.
Registration for Mini competitors can be found at: https://www.motorsportreg.com/events/14th-csrg-charity-challenge-sonoma-raceway-232502 or by calling 530-866-0771.
END
Source :
Mini Mania, Inc.