Seven Driver International Roster Announced for Mini Mania's Can-Am Challenge Team
All-Star Lineup from US and Europe Prepares for Sonoma Vintage Race in September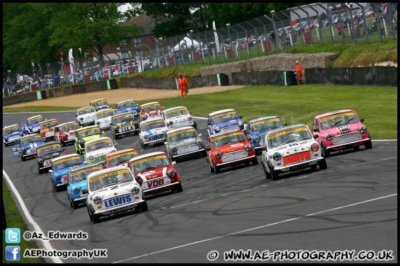 Press Release (ePRNews.com) - NEVADA CITY, Calif. - Aug 19, 2017 - Mini Mania officially finalized today its seven-driver lineup to take on the Sept. 29 – Oct. 1 Can-Am Mini Challenge at California's Sonoma Raceway. Joining the four members of the Don Racine family are three Mini Cooper racing champions from overseas: Jonathan Lewis (Norwich, England), Rene de Vries (Heerde, Netherlands) and Endaf Owens (Carmarthen, Wales).
The Can-Am Mini Challenge is the featured Marque in California's 14th Annual Charity Challenge Vintage Car Road Races at Sonoma Raceway, sanctioned by the Classic Sports Racing Group (CSRG).
"We truly have an all-star lineup up of Classic Mini racing drivers in what I hope will be a great weekend at Sonoma Raceway for family, fans and vintage racing enthusiasts," Don Racine said. "Preparing seven cars while handling the international travel logistics for this all-out assault on the Can-Am Challenge is ambitious to say the least, but we are looking forward to it!"
Jonathan Lewis
Jonathan Lewis began racing at age 12 in a Mini and during his career won numerous titles including the Graham Hill Championship, the National Mini 7 title, Formula Renault World Series, FF2000 championship, and Mighty Mini and Dutch championships. In 2015 and 2016 he claimed the prestigious Masters Championship and is currently leading the 2017 title race with teammate Rene de Vries.
Rene de Vries
Rene de Vries began driving a Mini Cooper and Triumph TR4 in Historic Rallies in 2005, which led him to the race track in 2013. He captured the 2014 Dutch NK HTGK championship where he met Jonathan Lewis, with whom he is now teammates. "This year we are racing at one of the highest levels, the Masters Historic Racing Pre-1966 Touring Car Championship against pro drivers in Lotus Cortinas, Ford Falcons, Mustangs and a lot of Minis," he said. "I'm really looking forward to racing with the Racine family at Sonoma Raceway."
Endaf Owens
Joining the overseas contingent is Endaf Owens who began kart racing in 1990 before moving to auto-grass racing in 1994. After winning several races with his Mini pickup, he began racing Mini Miglia in 1998 and took ninth in the championship; later finishing third overall in 2001 and winning his first race in that class. Owens captured the title in 2011 with eight wins before moving onto other Mini race classes and claiming victory in a GP2 class event in Taiwan. With a MK 1 Mini Cooper S he won the Brands Hatch Mini Festival, the Silverstone Classic and the Spa Six-Hour in the U2TC championship for pre-1966 under two-litre touring cars.
Don Racine
Don Racine is the founder and owner of Mini Mania who is fielding the seven-car team for the Can-Am Mini Challenge. He has raced almost every type of sports car since the 1970s, including formula cars, sports racers and sedans at more than thirty tracks in the USA, Japan, Australia, United Kingdom, and Canada. Like many he began by volunteering at events and autocrossing before graduating to a variety of racing cars while developing a love for Mini Coopers. Sourcing parts for the growing numbers of Minis he owned led to founding an import business that's flourished into Mini Mania, the leading restoration and performance parts supplier for both Classic Minis and the new BMW MINI. Don has won numerous Classic Mini races in recent years, including events at the Indianapolis Motor Speedway and California's Sonoma, Laguna Seca and Coronado racing circuits, to name a few. http://www.MiniMania.com.
Dennis Racine
Following in his father's footsteps, Dennis' earliest memories are of when his parents purchased a Mini Woody station wagon. He also began with autocrossing and helping on his dad's cars while growing up. Dennis has owned more than 20 Minis and has been road racing them for the past 12 years with numerous victories. In fact, he was the recent June race winner at Sonoma Raceway in a Mini Cooper, edging out his father, sister and brother-in-law for the checkered flag. He hopes to repeat this accomplishment at the Can-Am Mini Challenge.
Julie Racine
Don's daughter and Dennis' sister, Julie also grew up with Minis in the driveway and learned to drive at age 11 in Don's Mini Moke on dirt roads at a campground. She later competed in numerous autocross, hillclimbs and other events before going road racing in the early 1990s. Julie and her husband, John Burmann decided to go sports car racing together beginning in 2009. Julie purchased one of her brother's Minis and in 2010 John obtained one to make for the Racine family's four-car team.
John Burmann
John attended driving schools at California's Thunder Hill and Sears Point raceways in 1995 to learn about sports car racing before competing in Sports Car Club of America (SCCA) and National Auto Sport Association (NASA) competition. He and his wife, Julie both have the racing bug and decided vintage racing was the way to go. He began with a 1967 Sprite but later decided he wanted to be part of the Mini racing group with his wife and family. They traded the Sprite for a 1965 Mini that he currently races. John and Julie enjoy the Mini Cooper family affair and competing with Don and Dennis in up to five race events per year.
Registration for Mini competitors can be found at: https://www.motorsportreg.com/events/14th-csrg-charity-ch… or by calling 530-866-0771.
END
Source :
Mini Mania, Inc.