Mining collectibles, coins and currency, old bottles, postal history and more at Holabird's April 28-30 auction in Reno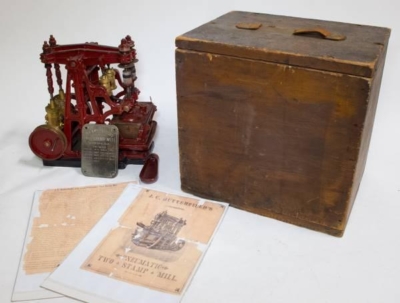 Press Release (ePRNews.com) - RENO, Nev. - May 25, 2017 - A palladium commemorative coin produced for the 1939 World's Fair in New York – about the size of a silver dollar and known as a "so-called" dollar in collecting circles for that reason, since it can't be used as currency – gaveled for $6,353 to take top lot honors at an auction held April 28-30 by Holabird Western Americana Collections, LLC, online and in Reno.
The coin, made from palladium (a platinum group metal), was produced by Baker & Company, Inc., a precious metals refinery in Newark, N.J. The obverse depicted Athena and said, "This Charm is Genuine Palladium." The reverse showed the World's Fair logo and named Englehard Industries alongside. It was housed in the original satin and velvet lined leatherette jeweler's box.
The three-day auction event was a blockbuster, comprising nearly 1,800 lots in a wide range of collecting categories – to include mining collectibles, old bottles, postal history, Wells Fargo Express, gold and jewelry, coins and currency, toys, cowboy and Indian, firearms and more. The auction was conducted in Holabird's gallery, located at 3555 Airway Drive (Suite #308) in Reno.
About 50 people attended the sale in person over the course of the three days, while 2,100 others registered to bid online, via the platforms iCollector.com, Invaluable.com, Auctionzip.com, eBay Live and AuctionMobility.com (specifically for iPhone users). In addition, around 50 phone bids were placed, while absentee bids – mail, fax, e-mail and advance online bidding – were all brisk.
"We're in uncharted territory here, with mining collectibles and related items being a relatively new category," said Fred Holabird of Holabird Western Americana Collections, LLC, "but judging by the results of this auction, and the number of new bidders it attracted, plus the overall interest and excitement it generated, I'd say it's a category that's already popular and growing."
Holabird added, "It's always exciting when you bring new bidders and collectors to the table, and this auction certainly did bring in a crop of new people, not just in this country but overseas as well. Competition was strong for most lots, and sell-through for the first two days was over 90 percent. That number dipped on day three, but only because the toy market is weak right now."
Following are additional highlights from the auction. Prices quoted include a 21 percent buyer's premium.
Another commemorative coin, along with the so-called palladium dollar, also drew attention. It was a silver medallion, produced in 1983 to celebrate the 125th birthday of the American Numismatic Society. Only 100 of the coins were produced. The one sold, weighing 16 ½ troy ounces of silver and complete with the original box and paperwork, changed hands for $1,210.
Miners' antique lamps and candlesticks were a big hit with bidders. A few top lots included:
The original Copper Queen embossed lamp in the Little Giant style, made by Justrite, with all parts present and original ($3,630). This is often considered the #1 American carbide lamp and it was used at the famous American copper mine in Bisbee, Arizona.
The original Arnold carbide candle, invented by Ralph Arnold, a Cripple Creek mining engineer, in 1913 ($3,146). This unusual hand-held carbide light with a hook is considered one of the all-time great carbide lamp rarities and was a star lot in the sale.
A fancy Maltese Cross miner's candlestick, 12 ¼ inches long and made of one-piece steel ($2,057). According to the reference authority Wilson & Bobrink, this is one of only two examples known. The significance of the iron cross on the thumb-lever is not known.
A miniature working pneumatic two-stamp mill with the original custom wood box and paperwork, manufactured by J. C. Butterfield of Chicago, coasted to $4,538. The stamp mill was either a patent model or a working salesman's model, used by Butterfield himself. He applied for a patent in 1879 and received the patent in 1880, around the time this stamp mill was produced.
A Rundle Power Thawer – a device invented by J.J. Rundle of Iron Mountain, Mich. and used in the mines of Lake Superior for thawing dynamite and other high explosives (later introduced in the West by Hendrie & Bolthoff Mfg. Co. of Denver, Colo.), made circa 1895, went for $3,993. A Blasting Machine No. 3, patented in 1893 and claiming it will "fire 20 to 30 holes," hit $1,513.
A multi-colored map of California and Nevada, with a Virginia City insert, compiled from the latest and most reliable sources and surveys available in 1882, garnered $2,783. The map, in near mint condition, was published by A.L. Bancroft & Co. (San Francisco), and measured 52 inches by 64 inches. It featured original two-sheet construction and attached wood rollers at both ends.
A postal history cover (envelope and stamp) from the Good Hope, Nevada post office, which only operated from 1884-1887 and served a small mining camp near Tuscarora, brought $1,392. The 1884 cover came with a bonus: the first page of a letter, talking about Navajo Mine & Mill and the writer's bird's eye view of Tuscarora on the road to Good Hope. The Garnett grade: R-9.
A copy of the 1865 book The Silver Mines of Nevada, published by Nostrand (N.Y.) and Dutton (Boston), exceedingly rare and with a replaced hard cover, achieved $1,210. The book was a feast at the time for the folks back East who were hungry for news about the legendary silver mines in the new state of Nevada. The book previously resided in the Upsala College Library.
A rare pair of Chinese camp pay vouchers for Ah Jack, a Carson City (Nev.) Chinese merchant who often provided manpower help for the V&T Railroad, sold as one lot for $787. The pay vouchers, from 1878, show one in the amount of $269.50 for a month's worth of work (May) in Huffakers, Nevada. The other, also for May, was for $254.00 and was signed by J.L. Hayward.
Holabird Western Americana Collections, LLC's next big auction will be held Friday, June 16th, on the eve of this year's Reno Antique Bottle & Collectors Club 53rd annual Show & Sale, slated for the following day, June 17th, at the Sparks/Reno Convention Center in Reno, Nevada. The auction will feature a top collection of Western whiskey flasks, Hutchinson sodas and medicines.
Holabird Western Americana is always seeking quality bottle, advertising, Americana and coin consignments for future auctions. To consign a single piece or a collection, you may call Fred Holabird at 775-851-1859 or 844-492-2766; or, you can e-mail him at fredholabird@gmail.com. To learn more about Holabird Western Americana's June 16th auction, visit www.fhwac.com.
Source :
Fred Holabird