Western Americana, to include Pawnee Bill items, will be part of Holabird's Aug. 6th auction in Reno
Holabird Western Americana Collections, LLC will conduct a 370-lot auction of Western Americana on Sunday, August 6th, starting at 12 high noon Pacific time, in the firm's gallery at 3555 Airway Drive (Suite 309) in Reno, Nevada.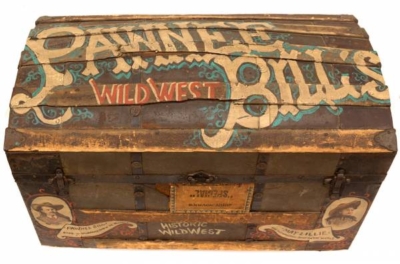 Press Release (ePRNews.com) - RENO, Nev. - Jul 22, 2017 - Holabird Western Americana Collections, LLC will conduct a 370-lot auction of Western Americana on Sunday, August 6th, starting at 12 high noon Pacific time, in the firm's gallery at 3555 Airway Drive (Suite 309) in Reno. The event will be simulcast at the first-ever Cowboy-Con Convention, slated for Aug. 4th-6th at the nearby Reno/Sparks Convention Center.
For those unable to attend in person, online bidding will be facilitated by iCollector.com. Phone and absentee bids will also be accepted.
"This auction will include everything the novice or advanced collector needs, to outfit his or her cowboy dreams," said Fred Holabird of Holabird Western Americana Collections, LLC. "We've got saddles, guns, Native American art and artifacts, and items relating to Pawnee Bill, including his wooden trunk, his Winchester model 94 rifle, a framed autograph and a profile photograph."
Pawnee Bill (1860-1942, born Gordon William Lillie) was an American showman and performer who specialized in Wild West shows. He was best known for his brief partnership with Buffalo Bill. His time spent as a youth working on the Pawnee Indian agency in Indian Territory earned him the opportunity to work as an interpreter for Buffalo Bill and is the origin of his nickname.
In 1886 Pawnee Bill married May Manning, a petite Quaker from Pennsylvania and a graduate of Smith College, and two years later the couple launched their own Wild West show, which they called Pawnee Bill's Historic Wild West. May starred in the show as the "Champion Girl Horseback Shot of the West." The very rifle she used in the show is one of the lots being sold.
The rifle is an 1893 Floebert single-shot, .22 caliber target rifle with a 23-inch octagon barrel. It was given to May by Pawnee Bill at the start of her career. The stock has a sterling silver plaque inscribed with, "May Lillie, World Champion Shooter, 1893." The lot has an estimate of $8,500-$10,000 and includes an original cabinet card with a photo of May, Pawnee Bill and the rifle.
May will probably be upstaged, however, when lot #1141 comes up for bid: Pawnee Bill's model 94 Winchester Deluxe .30 caliber rifle, expected to hit the mark for $25,000-$35,000. The one-of-a-kind rifle, special ordered from the factory by Bill himself, features a 26-inch round barrel with full-length magazine tube, flip-up globe front sight and an adjustable buck-horn rear sight.
Another Pawnee Bill item being sold is his wooden travel trunk (est. 4,000-$6,000), the top of which is hand-painted "Pawnee Bill's Wild West." Portraits of Bill and May appear on the front of the trunk, and a photo of May is attached to the inside top lid. The lot includes a cabinet card, photo-documentary of the 1900-1905 show tours and a book about Pawnee Bill and Buffalo Bill.
The auction will feature items ranging from beautiful kachina dolls to Western American art to Native American jewelry and clothing. Certain to attract keen bidder interest is a beautiful silver parade saddle made by Keyston Brothers of San Francisco, with matching parade-style headstall (est. $3,500-$7,000). The circa 1930s saddle boasts silver work by Schaezlein of San Francisco.
Rifles will probably dominate the list of top prices realized. A choice lot is #1142 – an 1869 Sharps long range rifle (est. $7,500-$9,500). The J. P. Lower marked, 45-110 caliber, black powder cartridge, military/civilian three-barrel band long range Sharps rifle was found by Mike Star, the original owner, in 1900. Mr. Star, born in 1833, is the grandfather of the current owner.
A Colt model 1877 Thunderer double-action, .41 caliber revolver, built in 1888 and marked in sterling silver "101" on the right grip, should hit $4,500-$7,500. The gun has a 4 ½ inch barrel and comes with a beaded holster having 10 colors for a spectacular Sioux display. The revolver and holster have been together since the days of the 101 Miller Bros. Ranch Wild West Show.
Kachina dolls are visually arresting and always a hit with collectors. Lots will include a cactus kachina by Terrence Lewis, 19 inches in height and made in Arizona City (est. $1,500-$3,000); and a butterfly kachina by Lawrence Acadiz (1964-2014), a member of the Deer and Kachina clans of the Hopi tribe. Dated 1995 and 13 ½ inches tall, the kachina should make $300-$600.
A circa 1890s Spoontoon pipe tomahawk with Plains file branding on the stem and inlaid with three pewter arrows and a pewter cap on the base of the 19-inch-long handle (the head is 11 ½ inches long) has an estimate of $4,000-$6,500; while an early Zuni petite point squash blossom necklace in a frame, turquoise and silver, in nice condition, should top out at $1,500-$3,000.
A finely made .36 caliber Kentucky long rifle, overall 53 inches in length with a .37 inch octagon barrel, is expected to ring out at $2,000-$5,000. The unmarked long rifle has an E. K. Tryon and Co. back action lock and was probably built around 1855. Also, a pair of Crockett & Kelly, Inc. handcuffs with key, one cuff etched with "SHU 41" and the other "41", should reach $200-$400.
A preview will be held on Thursday, August 3, from 9-5. Color catalogs are available on request, by calling toll-free, 1-844-492-2766, or 775-851-1859. Anyone owning a collection that might fit into an upcoming Holabird Western Americana Collections, LLC auction is encouraged to get in touch. The firm travels extensively throughout the United States, to view and pick up collections.
Holabird Western Americana is always seeking quality bottle, advertising, Americana and coin consignments for future auctions. To consign a single piece or a collection, you may call Fred Holabird at 775-851-1859 or 844-492-2766; or, you can e-mail him at fredholabird@gmail.com.
Source :
Holabird Western Americana Collections, LLC