Misurata, Libya: A Pioneer in Establishing Sustainable Solar Energy Production for All Libyans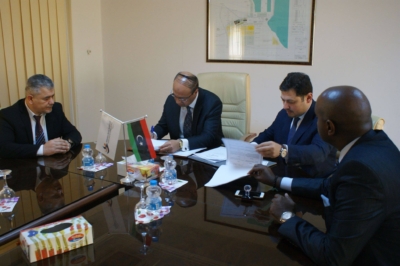 Press Release (ePRNews.com) - MISURATA, Libya - Mar 09, 2018 - iQ Power Inc. and the Misurata Free Zone (MFZ) at the City of Misurata, Libya, have entered into a Memorandum of Understanding (MoU) on March 8, 2018, in an initiative to increase Libya's and MFZ energy independence by taking a leadership role toward increased renewable energy production with a special focus on solar energy. The chairman of iQ Power pledged a non-partisan, transparent and open process to welcome participation in the process toward reconciliation and reconstruction for all Libyans and to work with the present agencies and authorities to maximize efficiencies and shared wealth.
iQ Power Inc. is an American company established with a sole purpose to develop renewable energy and sustainable development in MENA (Middle East & Africa) in compliance and furtherance of the programs and directives of: United Nations SE4ALL, Mediterranean Solar Plan, U.S. Department of Energy and USAID Power Africa.
The MoU was signed by Eng. Sherif Elhelwa, executive chairman of iQ Power Inc., and Dr. Hussein Bin Humeida, chairman of Misurata Free Zone, in the presence of Eng. Yousef Abu Sheiba, general manager of MFZ Investments, Mr. Sharif Alhaj, CEO and business development director of iQ Power Inc., and Professor Ingénieur général des Mines honoraire and Chargé de mission, Fondation Energies pour l'Afrique, Christian Stoffaes.   
Sustainable energy development is a step towards stability, reconciliation and reconstruction for Libya and all Libyans.
Misurata Free Zone, based on the directives of the Libyan State, has shown its desire to develop the Photovoltaic ("PV") and Concentrated Solar Power ("CSP")  solar power energy industry and has expressed its intent to do so. iQ Power is weighing the options of how CSP, PV or hybrid can best be utilized and optimized given the need for reliable and continuous power.
The consortium of companies have come up with a Master Project plan to develop and build on a turn-key basis the integrated PV and CSP solar power energy project(s) up to 300MW, and to bring a minimum of 500 million USD in foreign direct investments (FDI) to the Libyan economy – a build-own-operate-transfer (BOOT) contract benefiting the people of Libya first and finally. MFZ also has expressed its interest in constructing a seawater desalination plant utilizing in part or in whole solar energy as its source of energy to meet the growing needs of the city of Misurata. 
Currently, Libya is becoming a supply and export platform for Solar PV modules and inverters to the Middle East and African countries which have a robust pipeline of upcoming PV and CSP projects. 
The envisioned project will create local jobs and local know-how and will be able to support and supply the project's expansion plans as well as export products to neighboring countries using the legal support that MFZ has based on law No. 9  of the legislation laws and decisions of MFZ.
http://www.mfzly.com/en/legislations-laws-and-decisions 
The project will bring together top global U.S. and European engineering, procurement and construction as well as technology and service providers, all of whom have an impressive combined track record in the field of solar energy.
iQ is in discussions with France's top scientists and companies, along with U.S. National Renewable Energy Laboratories (NREL) to bring the smartest and latest engineering designs in the solar energy industry to make Misurata Free Zone a state-of-the-art example for solar energy in North Africa.
Several sources of finance have expressed interest in the projects, including China, Gulf Countries, Europe and Egypt.
Sharif Alhaj
+201093465556
sharif.alhaj@iqpower.org
www.iqpower.org
www.mfzly.com
Source :
iQ Power Inc.

Business Info :
iQ Power, Inc.
6 Flowering Cherry Drive
Asheville, NC 28805