NeoGraft selects Dr. Ronan of Blackhawk Plastic Surgery to launch NeoGraft 2.0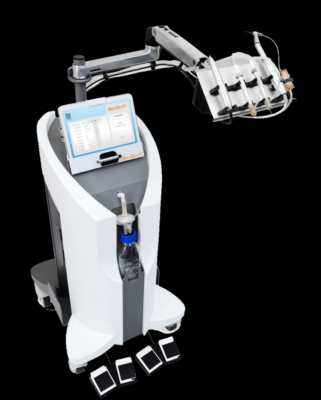 Press Release (ePRNews.com) - DANVILLE, Calif. - Apr 26, 2017 - NeoGraft® Solutions Corp will unveil the next generation of hair transplantation devices, the NeoGraft 2.0® this week and Dr. Ronan of Blackhawk Plastic Surgery will be the first doctor to use the life-transforming device on his patients. The new 2.0 NeoGraft transplantation device combines advanced surgical techniques with decades of data to deliver the highest quality and most consistent clinical results possible.
A top NeoGraft practitioner and trainer, Dr. Ronan was thrilled to learn his practice would be the first in the nation to roll out NeoGraft 2.0 to his patients, "NeoGraft just made another technological leap for hair transplant surgery. When patients suffering from hair loss come in to Blackhawk Plastic Surgery, I am always confident in offering NeoGraft hair restoration as solution to hair loss. The NeoGraft 2.0 device takes the treatment to another level of results ensuring our patients are comfortable and getting maximum new hair growth from the procedure. I am extremely honored to be the first doctor to receive the new device." According to NeoGraft, Blackhawk Plastic Surgery is one of the busiest NeoGraft practices on the West Coast and has a client list that ranges from Silicon Valley CEOs to professional athletes.
NeoGraft® Solutions Corps.' President, Glenn Normoyle believes that "NeoGraft 2.0® is a transformative device. We poured our unwavering commitment to patient outcome into every detail. It will lead the industry in patient satisfaction. Dr. Ronan and the entire team at Blackhawk Plastic Surgery exemplify what it means to be a partner. Whether you are one of his few hundred patients in San Francisco that elected to have a procedure, a nurse who was looking to begin their career in hair restoration or a surgeon who wanted to invest the time in ongoing education, Dr. Ronan and his staff have always found the time to accommodate. We are thankful for the partnership between our organizations and look forward to launching the first NeoGraft 2.0 worldwide at their facility."
Consultations for hair restoration at Blackhawk Plastic Surgery are complementary. To learn more visit www.800gothair.com.
About Blackhawk Plastic Surgery Hair Restoration:
At Blackhawk Plastic Surgery Hair Restoration, we understand that hair loss can change a person's appearance and be damaging to his or her identity and self-confidence. We want to help those who are suffering with thinning, receding, and even balding hair to regain their sense of style and confidence.
Dr. Ronan and the staff at Blackhawk Plastic Surgery specialize in NeoGraft, the first FDA approved, automated and minimally invasive hair restoration procedure. NeoGraft combines the Follicular Unit Extraction (FUE) method and automated technology to reduce the lengthy process of the manual FUE method and improve the cosmetic disadvantages of the traditional strip method. NeoGraft is the least invasive procedure for hair transplantation. Learn more at www.800GotHair.com
For Media Inquiries please contact Megan Scott at megan@BlackhawkPlasticSurgery.com or 925-736-5757
To learn more about Blackhawk Plastic Surgery and read Dr. Ronan's complete bio visit: www.blackhawkplasticsurgery.com
Source :
Blackhawk Plastic Surgery