New Age Piano – A 'Laid Back' Music That Goes Nowhere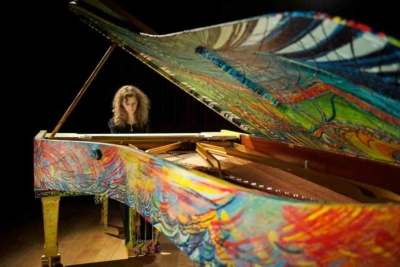 Press Release (ePRNews.com) - SAN DIEGO - Feb 18, 2017 - It used to be big … New Age music that is. Back in the 1980's along with Wham and Madonna, a new style of music popularized by pianist George Winston emerged. It was called 'new age' because of it's soothing, eclectic sound. But for reasons unknown, disappeared from the music scene.
But now it's making a comeback. Thanks in no small part to the efforts of piano teacher Edward Weiss.
Mr. Weiss owns and operates a website that teaches, you guessed it, New Age piano. The site now boasts over 150 lessons that promise to teach the complete beginner how to improvise and compose music in the gentle flowing style known as 'new age.'
Weiss remarks:
"So many people would just like to sit down at the piano and play what they feel The beautiful thing about the New Age style of piano playing is that a total newbie can learn a few chords and jump in the musical waters right away."
Weiss has been teaching this style of piano playing online for over 12 years and offers a full course of instruction.
When asked if he's stealing students away from more traditional courses, Weiss says:
"Not at all. There are so many ways to play the piano. But there was nothing in the New Age style until my course appeared. I know a lot of people like to listen to this music to relax and unwind. And there are those who would really like to create this kind of music on their own. My online lessons help them achieve that goal."
Mr. Weiss is currently offering a free piano lesson 'and stress-free special at his website http://www.Quiescencemusic.com
Source :
Quiescence Music