New Fiduciary Rule Backed By Oasis Financial Solutions Inc, Granger, South Bend, Elkhart, Mishawaka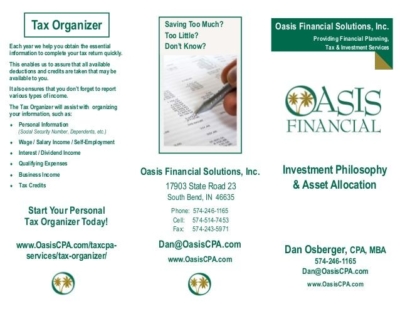 Press Release (ePRNews.com) - MISHAWAKA, Ind. - Mar 27, 2017 - To act in another's best interest is the golden rule. When it comes to the golden rule and finance, it is prudent to use this rule when managing another's 'gold'. This is important when it comes to your financial advisor, as they should act in your best interest. The Department of Labor has issued a new ruling scheduled to become effective April 2017. This new rule involves Financial Planning firms or anyone in the industry servicing the retirement community and retirement accounts. Retirement planners will now be mandated so that an advisor acts in the best interest of the client.
Introducing Oasis Financial Solutions Inc.; owned and operated by Dan Osberger RIA, CPA, and MBA. He has been quoted saying: "We have always put or clients' interests first and always will." Oasis Financial Solutions Inc. is a Registered Investment Advisory firm that operates on a fee base. They have been in business for more than 10 years, and have always done what is in the interest of the client, both in retirement accounts and in discretionary accounts. Mr. Osberger states "We seek to keep fees low, and we do not gain a commission when we suggest a trade- in any type of account." Oasis Financial Solutions, Inc. is located at 17903 S.R. 23 in South Bend, Indiana 46635. Feel free to give them a call with any questions regarding your Retirement and Investment accounts.
For more information you can visit: http://www.oasisfinancialsolutions.com/
Source :
OASIS Financial Solutions, Inc.