New Financial Planning Solutions With Oasis Financial For South Bend, Granger, Mishawaka, Elkhart IN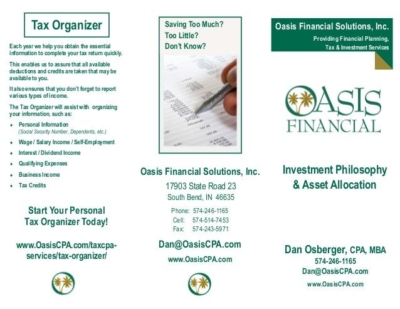 Press Release (ePRNews.com) - SOUTH BEND, Ind. - Mar 27, 2017 - Many people are looking for respectable and reliable assistance when it comes to their finances. Introducing Oasis Financial Solutions, Inc., an independent Registered Investment Advisory Firm, owned and operated by Dan Osberger, RIA, CPA, & MBA. At Oasis it is more important for the client's financial plan to focus on personal consumption and not personal income. The folks at Oasis will help refine your plans to assure you will be able to keep the same living standard throughout retirement. At Oasis, the financial planning services include: retirement readiness, investment management, independent review of your investments, college savings goals, vacation home saving analysis, estate planning, and a review of benefit programs offered by your employer.
Oasis Financial Solutions Inc. offers a common sense approach to finances using new and sophisticated planning software. Their goal, as your investment manager, is to keep all fees under 1.0%. Their unique investment model, dubbed Unconventional Success, aids in keeping fees low. Most clients will find that their total fees and expenses, including those fees charged by your financial advisor, will be under 1% – helping your investment grow. Feel free to call and set up an appointment and they are open to field your questions in a timely manner.
For more information you can visit: http://www.oasisfinancialsolutions.com/
Source :
OASIS Financial