New Fox Hills FootGolf Tourney Requires some Fancy Footwork
Michigan Course to Host American FootGolf National Qualifier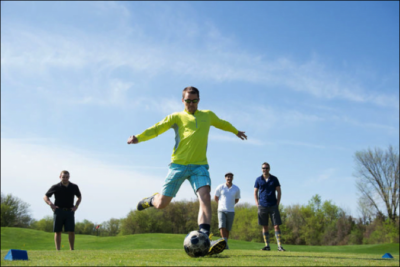 Press Release (ePRNews.com) - PLYMOUTH, Mich. - Jun 28, 2017 - On Sunday, July 9, 2017, Fox Hills Golf and Banquet Center in Plymouth will host a golf tournament of a different sort: the American FootGolf League (AFGL) Midwest Regional Qualifier.
FootGolf, a hybrid mix of golf and soccer, is played by the same rules as golf, but players use their feet and a soccer ball, instead of clubs and golf balls, to drive and putt their way through a course of shortened holes and larger 21-inch cups. The Midwest Qualifier at Fox Hills will give local FootGolfers a chance to earn a berth into the U.S. FootGolf National Championship at Dessert Willow Golf Resort in California this November.
The sport is taking off around the world, with over 10,000 players from 30 countries participating in 230 Federation for International FootGolf (FIFG) World Tour competitions this year, and more than 60 qualifying American tournaments for the U.S. FootGolf Nationals.
Fox Hills was the first course in Michigan to introduce FootGolf to the greens in 2014. Since that launch, the wildly popular sport has drawn players between the ages of three and 90 to the Plymouth, Michigan course.
"The game has skyrocketed here, and around the world, too," said Julia Grelak, Director of Sales and Marketing at Fox Hills Golf and Banquet Center. "It definitely takes some fancy footwork, skill, and strategy to compete at the sport's highest levels. FootGolf is a great golf alternative for individuals, families, and corporate outings because you don't have to be an avid golfer and you don't have to purchase traditional golf equipment. It's also a wonderful way to get some exercise and have fun on a beautiful course!"
The AFGL Midwest Qualifier Tournament on July 9th is open to AFGL Members and non-members in four categories: Junior (Ages 12-17), Men (Ages 18-45), Women (Ages 18 and up), and Senior (Ages 46 & up). The cost for registration is $30 per player for AFGL Members, and $35 per player for non-members. Tee-off times will start at 11:00 am, and the top 30% of the players in each Qualifier category at Fox Hills will earn the right to participate in U.S. FootGolf National Championship 2017. State and regional champions for each category in four U.S. regions will be determined at the U.S. FootGolf National Championship 2017, based on the finishing place in the final tournament.
The FootGolf Qualifier will be held on the Strategic Fox Course at Fox Hills Golf and Banquet Center, located at 8768 N. Territorial Road, in Plymouth, Michigan. For more information and registration, visit http://www.footgolf.us/calendar or www.FoxHills.com.
For media inquiries, please contact Sherrie Handrinos at 734-341-6859 or SherrieHandrinos@gmail.com.
About Fox Hills Golf and Banquet Center
Fox Hills Golf & Banquet Center boasts 63 holes of pristine, public golf coupled with a vast state-of-the-art year round Learning Center and three distinct venues and outdoor ceremony sites to host weddings and other special events throughout the year. From golf outings and weddings to our 50+ golf instructional programs, our family owned and operated business for over 40 years will deliver you a first class experience.
Fox Hills currently offers over 50 course programs through their Learning Center, from beginner leagues to junior golf camps and women's instructional leagues. The Learning Center was founded in 2007 and offers private, group, and corporate instruction for students beginning at the age of 3 years old. All courses are taught by eight PGA/LPGA professionals. All course information is located online at www.foxhills.com and is now open for enrollment.
Source :
Fox Hills Golf & Banquet Center