New Inspirational Card Deck From Judy Mastrangelo And Frances Munro Coming Soon
Artist and Author Judy Mastrangelo, and Spiritual Healer Frances Munro, announce that the "Joyful Inspirations" card deck and booklet, published by U.S. Games Systems, Inc. will be released later this year.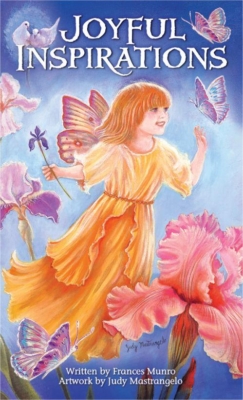 Press Release (ePRNews.com) - LEICESTER, England - May 04, 2017 - The deck will be showcased at the New Age Conscious Living Trade Show "INATS" from June 9 to June 11 in Denver, Colorado (http://inats.com)
"Joyful Inspirations" is a 45-card gift deck with a 52-page inspirational booklet. It will be published by U.S. GAMES SYSTEMS, INC. of Stamford, Connecticut. The artwork is by Judy Mastrangelo. Frances Munro, a world-renowned spiritual healer, provided the wisdom to channel the direction and accompanying affirmation for each painting. Each card carries its own message in the guidebook that accompanies the deck, as well as an exercise, a prayer or an affirmation for you to do.
This card deck is intended to appeal to all ages – from Children to Adults, for the Young and "The Young At Heart".
Featuring the dreamy artwork of Judy Mastrangelo, Joyful Inspirations cards invite you to join the caravan of flower fairies, dancing unicorns, friendly bunnies and a host of other joyful creatures who delight in spreading sunshine and rainbows. Enjoy cricket concerts, carousels, and garden parties in this magical world of the imagination. Each card carries its own message in the guidebook that accompanies the deck.
About Judy Mastrangelo:
Judy Mastrangelo is a world-renowned artist. She is known mostly for her fairy and fantasy art, and she also excels in the painting of many other themes, such as children, animals, landscapes, florals, etc.
Her work is licensed in several markets worldwide, including puzzles, wall murals, books, and art prints. Judy daydreams about her paintings before she puts them on canvas. This preliminary technique of "Mind Painting" helps her develop imaginative works of art.
Websites:
www.judymastrangelo.com
www.themysticalvisions.com
Follow her on Twitter: @ArtbyJudyMaster; Facebook and LinkedIn.
About Frances Munro:
After training as a spiritual healer in 1997, Frances found an ability to channel information. Over recent years, she has worked in the UK, USA, Sweden and Norway, providing development courses, past life regression and blockage release, retreats, and her own set of channeled Woodland Wisdom Oracle Cards published by U.S. Games, Inc. Her down-to-earth teaching illustrates the need to use spiritual wisdom for every area of life.
Websites:
www.francesmunro.com
www.godworldwide.com
Follow her on Twitter: @FrancesBelper; Facebook and LinkedIn.
Judy and Frances's first Inspirational Card Deck published by US Games, is entitled "INSPIRATIONAL WISDOM FROM ANGELS AND FAIRIES." You can find out more about by visiting this link:
https://judymastrangelo.com/2015/09/20/inspirational-wisd…
Source :
Novel Ideas

Business Info :
Novel Ideas
England