New Westminster College of Caucasus University Appoints Doctor Ines Gockel as Professor
World-renowned Surgeon and Medical Doctor, Ines Gockel, MD, Appointed Professor of Medical Ethics of the New Westminster College of Caucasus University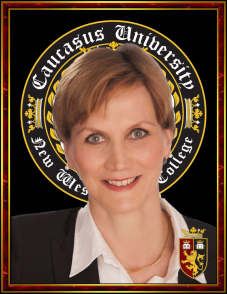 Press Release (ePRNews.com) - TBILISI, Georgia - Apr 06, 2018 - The Office of the President of Caucasus University has announced that Professor Ines Gockel, M.D., was officially appointed today as a Professor of Medical Ethics of New Westminster College of Caucasus University.
Professor Gockel is a Professor of Surgery, world-renowned surgeon and medical doctor. She is a Distinguished Fellow of New Westminster College of Caucasus University and previously served as a Governor and Vice Chair of the Board of Governors of New Westminster College in Canada from 2013 to 2017, before it became a constituent college of Caucasus University on November 1, 2017.
Professor Gockel earned a Doctor of Medicine in 1995 from the Johannes Gutenberg University of Mainz, Germany, and her Thesis on Endocrinology and Metabolic Disorders received magna cum laude honours. Dr. Gockel passed the German National Exam (Step I, II and III) and the United States Medical License Examinations (Step I and II) in 1995. Subsequently, she passed the Board License Examination in General Surgery in 2001 and the Board License Examination in Visceral Surgery in 2005. And in 2013, she earned an MBA in International Hospital and Healthcare Management from the Frankfurt School of Finance and Management at Frankfurt A.M., Germany.
Professor Gockel has held several professorships during her medical career, including: Professor of Medicine at the Johannes Gutenberg Medical School (2011-present); Professor of Ethical Leadership at New Westminster College (2012-2017); and Associate Professor of Transplant and Visceral Surgery at Johannes Gutenberg Medical School. She currently serves as the Chair and Director of the Department of Visceral, Transplant, Thoracic and Vascular Surgery at the University Hospital of Leipzig in Germany.
"Professor Gockel is taking the lead in designing and delivering our Medical Ethics Executive Program for surgeons and medical doctors in Germany and Georgia," said Professor Robert Goodwin III, Dean of the New Westminster College of Caucasus University. "Her ethical and unselfish leadership example command the respect of her students and professional peers alike. Our college and university are served well by her distinguished and inspirational participation."
WEBLINK: https://cu.edu.ge/en/schoolss/nwccu/nwccu-news/nwccu-news…
Source :
The New Westminster College of Caucasus University