New, "Wimpy Kid Meets Gravity Falls" Chapter Book Series for Kids
Just in time for school, THE TYLER FILES #1 Smarty Pants combines humor and mystery to get even reluctant readers excited about reading again!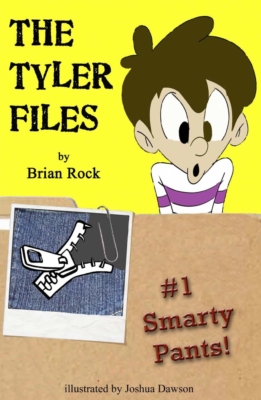 Press Release (ePRNews.com) - RICHMOND, Va. - Aug 16, 2017 - Back to schook means a new lunch box,
a new backpack, and a new pair of –
talking pants!
And they're ruining Tyler's life! How will he make it through the day without becoming the laughingstock of the whole 5th grade? And how will Tyler survive his pants' "off the cuff" remarks to the school bully (and to his secret crush?) With a little help from his best friend, Tyler gives a first-hand account of the mysterious, improbable and occasionally funny events that are so strange they can only be found in…
The Tyler Files
#1 Smarty Pants
Publisher: First Light Publishing
Author: Brian Rock
Illustrator: Joshua Dawson
Release Date: September 1, 2017
Pages: 86
Format: Paperback:
List Price: $6.99
Genre: Chapter Book Ages 7-10
Distributed by: Ingram Spark
ISBN 13: 978-0-9754411-3-8
Library of Congress Control Number: 2017908478
1. School-–Fiction. 2. Fantasy–Fiction. 3. Humorous stories 4. Mystery
Summary: When Tyler's pants mysteriously come to life, he must find a way to make it through the day without becoming the school laughingstock.
Contact: Brian Rock briantherock@cs.com
About the Author: Brian Rock is the author of five picture books and a sixth (WHICH ANIMAL IS FASTEST?) coming from Arbordale in 2018. In addition, his poetry has been included in numerous periodicals and the highly acclaimed anthology, ONE MINUTE TILL BEDTIME (Little, Brown), by U.S. Children's Poet Laureate, Kenn Nesbitt. Brian was formerly a teacher of at-risk students, he has performed stand-up comedy, and he has written award winning Country songs for his band, Family Reunion. Brian's pants have never actually talked to him; and any sounds coming from his pants are certainly not his fault!
https://www.amazon.com/Tyler-Files-Smarty-Pants-ebook/dp/…
https://www.barnesandnoble.com/w/the-tyler-files-1-brian-…
Source :
First Light Publishing

Business Info :
First Light Publishing
United States