OC Ramps Inc. Joins Lil Wayne's 2nd Lil Weezyana Fest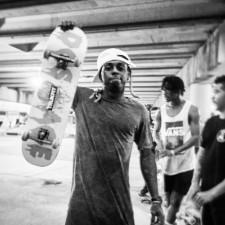 Press Release (ePRNews.com) - New Orleans, LA - Oct 06, 2016 - OC Ramps Inc, a California-based provider of skateboard ramp kits, joined Lil Wayne for the 2nd Lil Weezyana Fest on August 27, at New Orleans' Champions Square. The 4-hour concert had something special for the guests this year: a unique, pop-up skate park, created and set up by OC Ramps. The ramps and rails would later be donated to Lil Wayne's local skate park, Parisite.
The Skate Park
"We figured this is the least we can do in a moment of crisis," OC Ramps states.

Tyler Large, Owner of OC Ramps
The park was designed to fit for size. OC Ramps determined the best layout for the obstacles already in place at Champion's Square, including a large palm tree, a brick foundation, ledges and boxes.
After days of cutting and drilling, the finished product included Quarter Pipe and Bank ramps surrounding the outer perimeter and a bump-to-hubba in the center.  According to OC Ramps, the best feature was a custom-build pyramid ramp around the palm tree, which turned into a useful obstacle.
"Attendees loved the OC Ramps setup and watching the pros shred the course", the company shares. Among the professional OC skaters to use the park during the festival were Dave Bachinsky, Jordan Hoffart, Tom Ryen and Christian Sereika.
Donating the Park
OC Ramps was to ship the ramps back to California after the concert. After a discussion with Lil Wayne and his crew, they decided to donate the ramps to a park in New Orleans. Lil Wayne suggested Parisite, a local skate park under a freeway and one of the few existing ones in the city.
On August 28, OC Ramps and Lil Wayne drove to Parisite Skate Park to deliver the ramps. Teens gathered around curiously as the ramps were unloaded. "It was like watching kids open their Christmas gifts," the company shares fondly.    
In August, Louisiana was devastated by major floods, leaving many families without homes. "We figured this is the least we can do in a moment of crisis," OC Ramps states.  "We love skateboarding and we love the city of New Orleans.  We have nothing but love for the skaters out there and hope they continue to enjoy the skate obstacles as long as possible."
About OC Ramps Inc.
OC Ramps Inc. is owned by Tyler Large and family, who have been building skate ramps in Orange County since 1997. The company's mission is to offer high-quality, affordable skating equipment to provide local skaters with greater opportunities to engage in the sport. Today, they are a proud manufacturer and supplier of easy-to-assemble Skateboard Ramp kits, with over 20,000 kits sold worldwide. For more information about OC Ramps Inc., visit their website at www.ocRAMPS.com.
Source :
OC Ramps