Official date and Venue location for the AGARTHA TO HUMANITY WORLD SYMPOSIUM 2017 is announced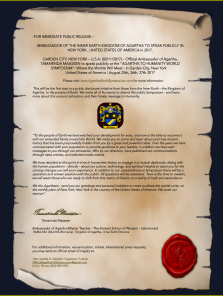 Press Release (ePRNews.com) - GARDEN CITY, N.Y. - Feb 11, 2017 - Official Ambassador of Agartha, TAMARINDA MAASSEN to speak publicly at the "AGARTHA TO HUMANITY WORLD SYMPOSIUM"- Where the Worlds Will Meet – in Garden City, New York United States of America | August 25th, 26th, 27th 2017 at the La Quinta Inn & Suites Garden City Hotel – 821 Stewart Ave Garden City, NY 11530
You have heard about the Inner Earth, and about the new discoveries in the Antarctica, and the Secret Space Program. You said you were ready for the truth, the time is now to receive the information from "the source".
Please visit: www.AgarthaWorldSymposium.com for more information
This sancioned Symposium will be the first step in a public disclosure initiative from those from the Inner Earth – the Kingdom of Agartha, to the people of Earth. We invite all of Humanity to attend this public Symposium – and learn more about this ancient civilization, and their timely message to Humanity.
-Official Statement by the Ambassador of the Inner Earth Kingdom of Agartha-
"To the people of Earth we have watched your development for eons, and now is the time to reconnect with our extended family around the World. We invite you to come and learn about your true ancient history that has been purposefully hidden from you by a great and powerful cabal. Over the years we have communicated with your population to provide guidance to your leaders, in addition we have sent messages to you through our emissaries. Who by our direction, have published our communications through news articles, and selected media outlets.
We have decided at this point in time in humanities history to engage in a mutual diplomatic dialog with the human population – directly – about our culture, technology, and spiritual insights to assist you for the coming changes you will soon experience. In addition to our presentations at Symposium there will be a questions and answer sessions with the public. All questions will be answered. Now is the time to awaken, we will assist those who are ready to shift from this matrix of illusion, to a reality of truth and ascendance.
We the Agarthans – send you our greetings and personal invitation to meet us where the worlds unite, on the earthly plain of New York, New York in the country of the United States of America. We await our reunion".
Tamarinda Maassen
Ambassador of Agartha (Master Teacher – The Ancient School of Wisdom – Salomonari) RAMA-NIA VALAHIA (Romania) – Kingdom of Agartha – Inner Earth Entrance
For additional information about the Symposium: Contact Sandra D. Sabatini, Organizer/ Liaison at: OfficialAgarthaUSASymposium@gmail.com | U.S.A. Phone: (502) 509-5592
Where and how to book Hotel Accommodations: Contact Peterson Labissiere direct at: lq2056dos@laquinta.com for 10% off Hotel Room Rates at the La Quinta Inn & Suites Garden City. Use code: "Agartha" to receive your discount.
Source :
AGARTHA TO HUMANITY WORLD SYMPOSIUM