Online Advertising Total Front Page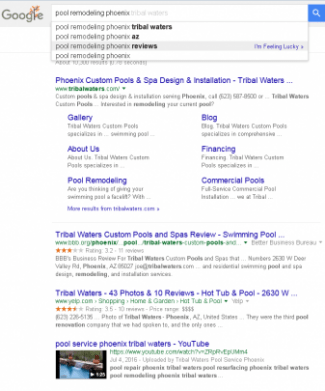 Press Release (ePRNews.com) - Apr 14, 2017 - Online Advertising Total Front Page
Marketing and advertising your company effectively in the major search engines is a very important part of business growth and sustainability. The challenge is that the "real-estate", the space, to market your company is limited. I'm talking about first page of Google and Bing, the top two search engines in terms of usage. If you aren't, or can't efficiently market your business on this precious piece of "real-estate", you will miss out a potentially game-changing market share.
Later in this article, we will show you how to get in front of every customer looking for you, even some that didn't know they were. We will also show how to completely bypass your competition. And we will show you how to completely dominate the traffic looking for your business product or service. All of this while using white hat (http://www.webopedia.com/TERM/W/White_Hat_SEO.html) methods, online advertising Total Front Page is one-of-a-kind product and service
Almost everyone understands that they need to be on the first page of the major search engines to be truly effective. The problem is that everyone else is trying to get there also. If and when you finally get your company on the first page, you see that you are there with about nine or more other companies. It's difficult to stand out.
In today's fast moving world, everything changes and evolves often when it comes to advertising your business online. The first step is knowing and understanding the playing field. Google is now putting a lot of emphasis on how customers search for your company name. It's all about what the user wants.
Google ranks sites on what we can control, such as your website content, social media activity, etc., and also what we can't control, such as online user activity. In Google's newest algorithm they put a lot of weight on user activity. They are trying to do a better job of providing the results customers want.
An important note to that after the last Panda/Penguin update (Google's name for their algorithm changes), appears that Google favors the large sites like Amazon, Sears, Home Depot, etc. The reason these major sites have moved up so aggressively in rankings is because of all the users searching for these company names included in the search, for instance, "plumbing materials home depot". Because of the new updates, these types of searches allow for a huge ranking advantage when users search for a product and a company name in the search before they hit Search. So, Google does not favor these company websites. It's because Google thinks that users favor these websites. It is basically a situation where we asked for it, so we get it. We keep putting company names in our searches, so search engines are ranking these companies higher in the results.
In order to explode your online advertising, you first need to make sure that you have (1) a good website with good relevant content, (2) social media activity, (3) directory listings, and (4) some content on other sites that link back to your website, such as blogs where you answer questions from customers.
At that point, you have the foundation to build your online advertising. But, as we related, many other companies are doing the same thing. So, how do you get yourself in front of the competition with your online advertising campaign?
The way to be in front of every customer looking for your product or service is to be suggested by the major search engines. About 71% of all users engage with what is called the auto-complete box. As we told you earlier in this article, we will show you how to get in front of your targeted consumer and dominate the traffic when you do. Here's how – Online advertising Total Front Page (http://www.totalfrontpage.com/).
Whenever a customer is typing in a search term looking for your product or service, you can be in front of every customer. Every customer who types in the search box will have your name in front of them as a suggestion before they see any of your competition. Consumers will click on your company and those that click on your name in the auto-suggestion box will see the first page of organic results that has only your company listed on the entire page. You completely bypass your competition.
To help you achieve your goal of dominating your marketplace with search box optimization online advertising Total Front Page is safe and results are guaranteed. We do not use any black hat methods.
Source :
Total Front Page