Optimus Prime Replica Truck Coming to Carlisle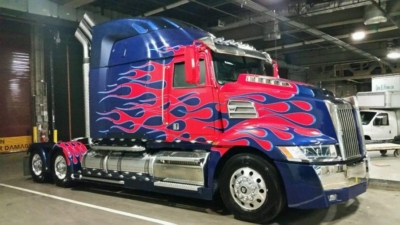 Press Release (ePRNews.com) - CARLISLE, Pa. - Feb 14, 2017 - The Hasbro brand is known for its hugely successful line of toys and in some cases, the movies and/or TV shows those toys have spawned. One such toy line and franchise is Transformers. In 2017, the Carlisle Truck Nationals will showcase an Optimus Prime fan-built replica truck, August 4-6 at the Carlisle PA Fairgrounds as part of the annual event. The Optimus Prime fan-built replica will be part of the Big Rig showcase this summer and it's something no one should miss out on. In front of this summer's international release of the next Transformers movie, fans of the franchise and truck weekend alike should make plans to be at Carlisle!
Approved as an official replica by Hasbro, the truck is a 2017 Western Star 5700 XE. When it started on the factory floor, its one and only purpose was to become an Optimus Prime replica. Its highly-customized look makes it true to what was seen on the big screen as part of Transformers 4 and will closely resemble its official counterpart for this summer's Transformers 5 movie. Artists and fabricators from around the country were involved to assure no detail was missed. Counting this replica, there are only three Optimus Prime trucks in existence built with this design. Basically, the chances of ever seeing this type of truck in person are slim so, coming to Carlisle in August is a must do for everyone!
In addition to seeing the rig, guests will have a chance to sit in the driver's seat and snap a photo too. While the experience of the truck is free, an additional fee for photos and up close experiences with the truck may apply. Regardless, Truck Nationals guests should make a point to attend and see the truck; after all it's an experience that just might transform their life!
Complete details on the truck nationals can be found at www.CarlisleEvents.com. In addition, links are active online today to register a truck for the event, purchase day or weekend passes or to simply sign up to be a vendor at the show. With monster trucks, big rigs, lowered and lifted trucks, plus a kid's zone with family fun all around, the 2017 Carlisle Truck Nationals is a weekend not to be missed.
Source :
Carlisle Events