Famed V12 Camaro Announced for Chevrolet Nationals Weekend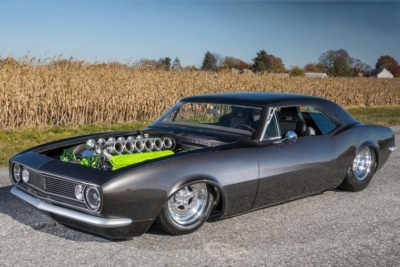 Press Release (ePRNews.com) - CARLISLE, Pa. - Feb 16, 2017 - A Camaro by itself, one just off the assembly line, can offer its owner power, style and performance without much additional effort.  These streetable rides are not uncommon on the National Parts Depot showfield at the Carlisle Chevrolet Nationals.  Along with those daily drivers, the grounds have even more cars, Camaros or otherwise that have seen many an aftermarket upgrade.  Basically, every car at Carlisle turns heads, but none will turn more heads than a special V12 Camaro that will be part of the indoor Building T display.  That's right, a 12-cylinder car is coming to Carlisle in June and for just the price of admission, it can be seen all weekend.
The V12 is owned by Mike Heim of Quality Custom Rides.  Heim is a regionally local Pennsylvanian, and he is bringing the V12 to the Carlisle Chevrolet Nationals after a smashing debut at SEMA in the fall of 2016.  While guests will want to see the entire car, the engine itself will be getting a bulk of the attention.  This massive power source was designed by Matt and Shane Corish of V12LS.com. The Australian based team debuted this car with Mike at SEMA last fall and it stole the show; so much so that articles are still being written about it months later.
The first-gen Camaro has seen not only its engine bay modified to house the wicked V12, but the car itself has been chopped, its rockers shortened and floor moved up.  Heim even diligently worked to add suicide doors and take over an inch out of the roof, giving the car a look not seen on an F-Body car in some time, if ever.  All this engineering excellence will stand front and center June 23-25 at the Carlisle PA Fairgrounds and not only will the car be at Carlisle, so will Heim.  Guests can see him, ask questions and pick his brain about the time, money and efforts that went into this car.  And oh by the way, if any car lover happens to want one of their own, a production/short block version of the V12 will be available starting this year for around $35,000 per engine and a turn key version would see pricing determined by the specific build requests of the customer.
"I was approached by the V12LS guys looking for a car to put a V12LS motor in for a test mule," said Heim.  "The only car I had was my own Camaro that I was working on and since I own a shop, I don't get a lot of time to work on my own projects," continued Heim.  "This is a car I have had for almost 30 years now (the first car I ever bought) and the design that went into this project was one I drew up in 1991, but never had time to actually work on.  This motor was the push I needed to get my butt in gear and finish it," added Heim.  "They came to my shop and saw the car and asked if we could get it to SEMA.  That was December 2015 and we got it there by October 2016.  Showing it to the public at Carlisle would be great during the 50th anniversary of the Camaro.  I am a first-generation nut and the timing couldn't be more perfect!"
Single day and weekend passes for Chevy weekend are available online now at www.CarlisleEvents.com.  That web page is also THE source for complete event details, including links to register a show car, become a vendor and more.  It all starts June 23 in Carlisle!
Source :
Carlisle Events