"Personal Revolution" Independence-Day Themed Short Mystery
Cape Cod Author's short, contemporary mystery available digitally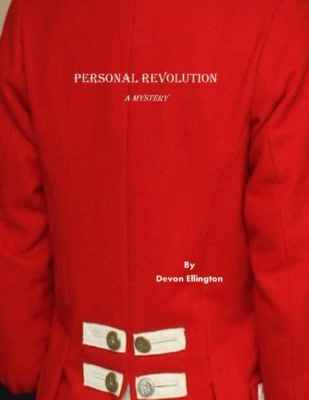 Press Release (ePRNews.com) - CAPE COD, Mass. - Jun 22, 2017 - When a man is hanged from an oak tree in a Redcoat uniform at an historic house just before the Independence Day program, Glenda is determined to both solve the murder and protect the newly-opened museum. What she finds is much darker — and more personal — than she bargained.
How she gets there is "Personal Revolution" a short mystery set in the fictional Cabot's Crossing, near Concord, MA. This lively, fast-paced contemporary mystery, themed around the Independence Day holiday is by Cape Cod-based author Devon Ellington, and is the first of a series of stories, novellas, and possibly, novels set in this fictional community. They focus on the historic Abby Turnbull House, a place Glenda helped create when a purchase of a trunk filled with books and diaries purchased at a flea market leads Glenda to Abby's last living descendant.
Ellington, a full-time author who publishes under multiple names, moved to the Cape in 2010 after a long career working backstage on Broadway and in film and television production, and is also an internationally-published playwright and radio writer. She is best known for her urban fantasy Jain Lazarus Adventures, with Solstice Publishing, and the paranormal archaeological Gwen Finnegan mysteries, formerly with Amber Quill Press, currently in negotiation for re-release. She is also the author of the short, comic romantic Twinkle Tavern mysteries, set in Vermont, and comic/romantic fantasy short stories under the Ava Dunne name.
"I love historical sites," Ellington admits. "I had family in Foxboro, MA, and we spent lots of time in Concord while I was growing up. Louisa May Alcott is one of my heroines, and one of the reasons I became a writer. I've spent a lot of time at Orchard House over the years. I always wanted to set something in the area. I have an extensive collection of women's historic diaries and journals, and love the idea of stumbling across some at a sale and following up on them. Add to that, an enjoyment of holiday-themed stories, but using holidays that are often over-looked, and that stew became 'Personal Revolution'."
The next Cabot Cross mystery will likely release in Spring 2018. "Demand will have an effect on schedule," she admits.
She has plenty coming up, though, and some of it is holiday-themed: The first Twinkle Tavern Mystery, "Plot Bunnies", had an Easter theme; the next, "Labor Intensive", will be set around Labor Day and release in time for that weekend. Those shorts appear under the Ava Dunne moniker. "The Ramsey Chase" a comic fantasy/time travel short, will release in mid-July, with its characters' next adventure, "Miss Winston Apologizes", releasing in November. Her paranormal romantic suspense novel Playing the Angles (originally released by Champagne Press as Assumption of Right) is set to re-release in October, with the next book in that series, The Spirit Repository, releasing in May of 2018. Several other projects are in various stages of writing and/or contract negotiation. Add to that the articles and other freelance writing she does, and Ms. Ellington has many projects on her plate.
"That's the writing life," she says, " and I love it."
"Personal Revolution", a digital short mystery, is available for only 99 cents from Smashwords, Kobo, and Nook. For more information on Ellington's other work, visit her website, http://www.devonellingtonwork.com.
Source :
Fearless Ink

Business Info :
Fearless Ink
United States