Photojournalist Begins Fifth Year in Egyptian Jail, Shawkan Still Awaits Trial on Fabricated Charges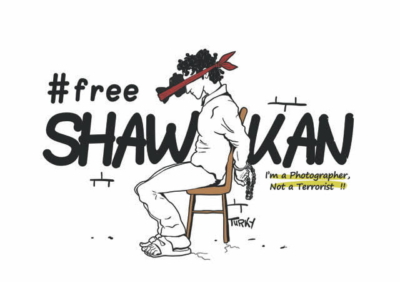 Press Release (ePRNews.com) - CHICAGO - Aug 15, 2017 - The following statement on behalf of American friends of Shawkan was sent to Members of Congress and Administration officials calling for Shawkan's release.
Four years ago today, three photojournalists were arrested for taking pictures of the 2013 Rabaa Massacre in Cairo: American Mike Giglio, Louis Jammes, a Frenchman and Mahmoud Abou Zeid, known professionally as Shawkan, an Egyptian.
The American journalist and the French journalist were beaten and released after two hours. Shawkan was also beaten, but remains in prison on pre-trial detention despite the fact that Egyptian law says that he cannot be held more than two years without a trial. He is extremely ill with Hepatitis-C and not being provided with proper medical care.
Last year, Shawkan was awarded journalistic freedom awards in absentia from both the Committee to Protect Journalists and National Press Club. They repeated Shawkan's mantra: Journalism is not a crime.
As you enter budget talks, we respectfully request that you take into consideration Shawkan's situation. His detention violates Egyptian law, violates freedom of the press and violates at least three tenets of the human rights conditions tied to the United States aid to Egypt.
The U.S. continues providing funds to Egypt despite Amnesty International (https://www.amnesty.org/en/get-involved/take-action/journ…) and other organizations sounding the alarm that human rights abuses are still being perpetrated by the Egyptian government despite el-Sisi's assurances (http://www.ibtimes.co.uk/sisi-has-kept-mahmoud-abu-zeid-j…). The U.S. government's voice should be the loudest of the chorus.
We hope that one of the outcomes of the budget discussion is for Congress to compel the Egyptian government to cease human rights violations and free Shawkan or risk jeopardizing the aid they count on from the U.S..
For more information on Shawkan's journalistic freedom awards:
Committee to Protect Journalists https://cpj.org/awards/2016/mahmoud-abou-zeid-egypt.php
National Press Club http://www.press.org/news-multimedia/news/national-press-club-honors-two-photographers-press-freedom-awards
Source :
Kurth Lampe

Business Info :
Kurth Lampe
211 E. Ohio
Chicago, Illinois - 60611 United States
Phone: 1-312-617-7288
Website:
http://kurthlampe.com