PinkBlueIndia Launches Latest Wedding Outfits for Kids | Children's Fashion Trends
Change the wardrobe with the season by shopping online at Pink & Blue India for the most beautiful and fashionable wedding outfit, first birthday dresses, Indian traditional outfits and ethnic clothes in newest designs and styles collection for kids.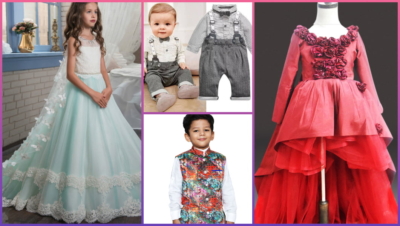 Press Release (ePRNews.com) - Jaipur, Rajasthan - Jan 17, 2018 - Leading online store for shopping fashionable and stylish clothes and outfits for children, Pink Blue India announces the launch of latest wedding collection outfits for kids for 2018.The renowned online store for kids in India unveils a unique collection of traditional and formal wedding outfits and party wear clothes for baby boy, girl, toddlers, infants and children of different age groups.
Check out the exclusive designer dresses for girl child and designer kids clothes boutique online to make your baby and toddler glam up any wedding or party occasion. We also introduced custom made children's clothing where the shoppers can opt for their own customized outfit look and the online store will get that ready in the doorstep. Step into the world of new arrival collection 2018 where style is the new trend and newer designs and print work clothes are available for children.
Buy online the child dress design 2018 and kids partywear outfits in the latest of designs and patterns. Ms. Aastha Agarwal the founder of Pink Blue India shares with all her thoughts on the latest wedding collection launch for kids, "every parent wants to dress up kids beautifully for weddings and parties. Our latest wedding collection for kids includes newest kids fashion trends and strives to give them the chance to be the center of attraction in a glam wedding. With our wedding collection of glitzy partywear outfits for boys and girls, children would surely look their best in the unique patterns and styles available. The highlight of this collection is the uniqueness of the designs, attractive colors as well as the comfort and quality of fabric which would give a second skin feel to the kids when they wear them."
Boys Wedding Suits & Partywear New Collection

We bring for our customers exclusive new collection of clothes for little boys. Dressing up your toddler or baby boy has now become more easier and hassle free. you can choose and order from the wide range of boys outfits like Suspender and Bowtie Style Romper Suit, birthday Romper Dress with Blazer, Bow Tie Tuxedo, 3pcs Brooch Waistcoat Outfit, Bow Tie Patch Romper and Waistcoat Outfits Set. There is also First Mustache Birthday party outfit, Nautical Sailor Romper Costume, Coat and tie romper suit to wear on them based weddings and parties. For the ones who loves hoodies there are T Shirt with Attached Jacket with trouser, superman hoodies and t-shirt and Pant sets hoodies perfect for daily wear as well as for outwear. Boys would also love the wedding suits and tuxedos in black, grey & navy to suit up for a wedding or Special occasion. There are also bow tie and suspender outfit and Short Sleeves Vest Style 1st Birthday Romper which are perfect for the little gentleman and would make him look classy and elegant. They can also be worn as outfits for Formal, Birthday Party, Wedding, Ring bearer or a gorgeous Photo shoot. The boys partywear new collection can also be given as gift/present to Newborn child on Birthday or Baby Shower.
Boys Ethnic Wear – Buy Boys Indian Wedding Clothes Online
Make a wedding or any traditional occasion the best for your toddler boy by purchasing the Kids Cotton Silk Kurta Pajama with Jacket which would make him look the star of the occasion. One can also buy from the wide collection of clothes like the White Kurta Pajama with Printed Jacket, Kurta with Waistcoat & Pajama and Kids Sherwani Suit set in pure traditional look. The Angrakha Style Jacket with Kurta Pajama and the Digital Nehru Jacket are the newest trends introduced in the collection of formal Indian wear for boys and baby boys. For the ones who love waistcoat, there is a Royal Blue Velvet Boys Waistcoat set in regal touch and Black Nehru Jacket sleeveless to complement the look. The Bow Tie Boys Waistcoat with Tuxedo Shirt Set, Royal Prince Jodhpuri Jacket, 5 Piece Tuxedo Set that includes Shirt, Pant, Bowtie, Coat & waistcoat are just a huge fashion trend in rule now. We also introduce Childrens Readymade Blazer Jackets for boys and toddlers to buy from.
Latest Trends & Styles Kids Winter Wear & Accessories
While dressing up for any occasion, it is also important to have proper seasonal wear collection in every closet in order to make the most of the winter season ruling now. When it comes to kids, getting the right winter wear is crucial to guarantee cozy and a warm winter and not to catch any cold. For cartoon lovers there is the Cartoon Hoodie & Pant and Kids Winter Warm clothes collection to choose from. The huge collection of baby winter clothes includes Baby Boy Outerwear Clothing, 2 piece set, Children Woolen Clothes and Baby Girl Sleeveless Winter Jackets with Hood to keep the baby warm. One can also check out the Children Winter Jacket and Soft and Cozy Warm Fleece Overalls & Dungarees which would guarantee the warm and hot temperature stay locked for long to give your bay and toddler a cozy feel. There are also beautiful collection of winter wear collection of accessories for kids like Toddler Woolen Clothes, cowl neck warmer, Woolen Caps and sweaters.
Variety of Fashion Indian Wedding Girl Dresses and Gowns Online Shopping
Dresses and Gowns are a favorite of every girl child. Whether it is the wedding gown or a formal evening gown, girls loves to dress up in the elegant evening to look chic and classy. An elegant gown makes every wearer look elegant with its clean lines and simple details. We also launch Gowns and dresses are of different Floor Length like the Flower Girl Dress, Half Saree Style Gown, Indo Western Dresses, Girlish Lehenga Choli, Frilly Dress and Shibori Sleeveless Dress to choose from. For the more chic babe, there is the One Shoulder Flower Girl Dress, High Low Dress, birthday dresses, Handwork Peplum Top with Dhoti, Long Evening Gowns. In its new motive to match both mother and daughter, we bring to all Mom and Daughter Matching Maxi Dress Gown, mother and Daughter Matching Lehenga which give matching dresses and outfits for both mother and daughter to team up and look elegant in any occasion. For more exclusive designs and amazing kids designer dresses for parties, make sure to grab now our new arrival collection, where one will get exclusive range of the latest in dresses for every occasion.
Children's Custom Made Clothing & Kids Personalized Clothes
We introduce custom clothing options for its customers where one just need to give the design and the look one wants for their children and toddler. We would surely tailor made the clothes accordingly and get it delivered to you. Shop from the exclusive range of children's custom made clothing collection where one can effortlessly dress the kids in cute, personalized outfits which would make them look more special and unique.
Ready to Ship Kids Clothes Online Shopping | Express Shipping
The leading online store has shipping services worldwide in the USA, UK, Australia, UAE, Canada and to major cities across the globe. With 24×7 customer service and custom tailoring facilities, we make sure the customers get their desired product at the address. We also offer extensive collection of ready to ship kidscollection outfits. Just place the order online and we would surely offer timely deliveries across India and across the globe anywhere.
About Pink Blue India

Pink Blue India is among the leading places of shopping outfits for kids and toddlers. Be it purchasing party wear dress for girls or formal occasion wear clothes for boys, the online store is the best among the rest. Buyers would definitely find a huge collection of fashionable outfits in the online site to choose from.
For further queries, you can visit the website http://www.pinkblueindia.com or Call us +91-8000-011-699 and whatsapp to +91-800-355-0118
Source :
Pink Blue India

Business Info :
Pink and Blue India
1A - First Floor, B- 92 Nehru Nagar, Near Jain Temple
Jaipur, Rajashtan, 302016
Phone: +91-8000-011-699
Website:
https://www.pinkblueindia.com