Islamic Fashion Brand MyBatua Launches Under $20 Abaya Collection for Muslim Women
The popular online Islamic clothing store MyBatua.com is exited to announce an exclusive collection of high quality Abayas that are not only great in looks but also very reasonably priced.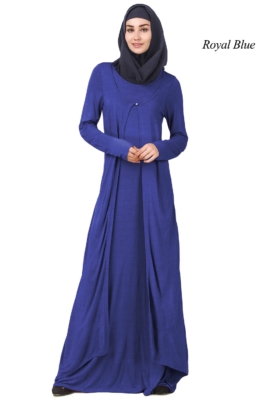 Press Release (ePRNews.com) - NEW YORK - Aug 12, 2017 - Amidst all the hue and cry made by fashion brands, the famous Islamic clothing brand MyBatua.com has launched its newest collection of exclusive Abaya designs for Muslim fashionistas. This unique collection of trendy casual Abayas are made with special intention of offering the perfect blend of modesty and style.
Abayas have always been the most sought after garments by Muslim women. Therefore, by adding a bit of tinge and flavour of the latest trends, MyBatua has brought in this exclusive range of Abayas under $20 to meet the needs of Muslim women for regular wear.
Understanding the need of Muslim women looking out for something light and graceful to wear on regular basis, MyBatua stepped in with its daily wear collection. It is highly exciting to announce that MyBatua has thrown in its new range of highly comfortable Abayas.
Essence of MyBatua's Abaya collection
MyBatua.com is one of the leading Islamic clothing providers that is well known for its impeccable designs and affordable price ranges. And, this latest collection also reveals its notable essence. Each Abaya is inspired by modern and contemporary designs.
The under $20 Abaya collection feature lush prints with a splash of enchanting and mesmerising colours. You are simply going to love every colour and print of this collection. Whether it is the eye-catching printed Abaya or the enticing daisy floral imprints, each depicts a classy appeal.
Casual Abayas That Are High On Comfort
The most impeccable feature of the latest Abaya collection launched by MyBatua.com is comfort. Every Abaya is specifically designed keeping comfort in view. These are the perfect modest wears for daily use in any season. The fabric used promises utmost comfort to skin, no matter what how the weather is.
The company also offers FREE standard shipping on all orders above US$150 across the globe.
About MyBatua.com:
MyBatua.com is an online retailer and pioneer in the manufacturing best quality handmade modest Islamic clothing and accessories. It has the widest range of exquisitely crafted handbags, prayer accessories, handmade jewelleries like broaches, pins, and clips. Stylish and elegant attire for kids, women and man. Be it stylish fashionable wear or traditional women wear like Abaya, Kaftan, Jilbab, Hijab, Niqab, or modest Islamic wear for men like Sherwani, Kurta Pajama, and Galabbiya, MyBatua showcases the best quality items at the most affordable prices. We take orders and deliver products worldwide.
Source :
MyBatua

Business Info :
MyBatua.com
254, FIE PPG
Patparganj, Delhi - 110092 India
Phone: 01143012546
Website:
http://www.mybatua.com