Point Loma Credit Union helps raise $10,000 for Rady Children's Hospital
Point Loma Credit Union, along with area credit unions, came together during the month of May in support of Credit Unions for Kids Miracle Month of May.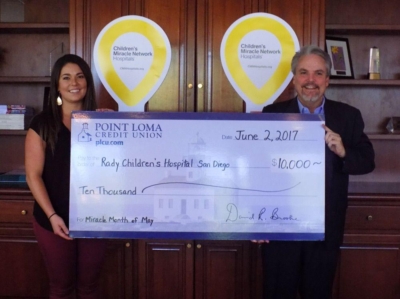 Press Release (ePRNews.com) - SAN DIEGO - Jun 21, 2017 - All proceeds were donated to San Diego Rady Children's Hospital to help hospitalized kids with the lifesaving care they need.Together with the CO-OP Miracle Match program, Point Loma Credit Union proudly raised $10,000 for this important fundraiser benefiting Rady Children's Hospital.
PLCU President/CEO Dave Brooke stated, "We want to thank everyone that so graciously donated to this worthy cause. The results were astounding!" Brooke presented a $10,000 check to Carly Rickard, Corporate and Community Development Officer of Rady Children's Hospital.
PLCU sold paper balloon cutouts in each of its six branches, within its various departments, and online. PLCU personalized each paper balloon cutout with the donor's name and displayed them in the branches and departments. Each balloon came with coupons attached for free or discounted items from local businesses. PLCU also raised money within the credit union by selling lemonade, nachos, Mother's Day goodie bags, "wear jeans on Thursdays in May" and through direct employee donations.
PLCU's participation in support of Credit Union's for Kids Miracle Month of May exemplifies the credit union philosophy of "People Helping People". PLCU will be participating in the Holiday of Miracles Rady-o-Thon later this year.
ABOUT POINT LOMA CREDIT UNION: PLCU offers a complete range of financial products and services including savings and checking accounts, loans, credit cards, the Visa Check Card, PLCU Online, Bill Pay Online and more.
PLCU is a member-owned financial institution with assets over $485 million with 6 branches as well as service centers throughout the United States. The credit union first opened its doors in 1948 to serve the employees of the Naval Electronics Laboratory (NEL), who wanted a safe place to save and to go for loans. Since 1948, the field of membership has expanded to everyone who lives in San Diego and Riverside Counties. Today, PLCU is proud to serve a community of over 30,000 members. Learn more about PLCU by visiting: https://www.plcu.com/ and follow us on Facebook, Instagram, Twitter, and YouTube.
Point Loma Credit Union, 9420 Farnham Street, San Diego, CA 92123
Source :
Point Loma Credit Union