San Diego Students Win $2,500 Point Loma Credit Union Scholarships
President/CEO, Dave Brooke announced the 2017 PLCU Scholarship winners as Ryan Thomas Lehmkul, Meghana Reddy, and Olia Javidi. Each scholarship winner has earned a $2,500 award to continue their education and inspirational contributions to society.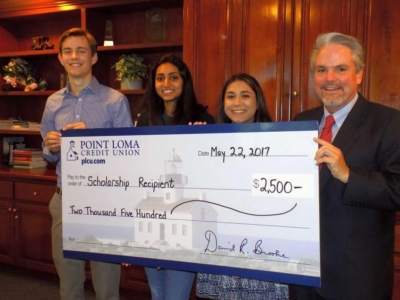 Press Release (ePRNews.com) - SAN DIEGO - Jun 06, 2017 - Heritage Christian School student, Cryptographer, and Cyber Security enthusiast Ryan Thomas Lehmkul is one of three winners in PLCU's 20th Annual Scholarship program. Ryan Thomas Lehmkul's interest in cyber security led him to develop a science fair project on web encryption vulnerabilities when using public WIFI. His project placed third in state and led to an Internship at the SPAWAR Naval base.
Ryan says of his experience, "For the past two summers, I have worked alongside brilliant mathematicians and computer scientists defending our country from cyber threats."
Ryan plans to follow his interests and pursue a double major in Computer Science and Applied Mathematics at U C Berkeley, a school recognized as having one of the world's top math and computer science departments.
Straight A student at Francis Parker School and Founder of Limbs with Love Meghana Reddy, is another winner of the PLCU Scholarship program. Meghana plans to attend Stanford University and earn a double major in Computational Biology and Technology and a minor in Business.  Her primary interest is the intersection of medicine and technology and the continuing success of her non-profit.
Meghana started Limbs with Love, a non-profit that 3D prints limbs for children in third world countries. She also became fascinated with technology and its application in biology using a computer-aided drug discovery process to detect inhibitors of VP35 protein of the Ebola virus. Using this method, a cure is found in a shorter time span.
Meghana is finding the courage to pursue her passions, saying, "My future lies in serving the community at large. I know that this passion will follow me throughout my life and manifest itself even during my undergraduate years. I intend to bring innovative solutions in science and technology to help people."
Francis Parker School student, Robot builder, Hands on Robotics program organizer, and UnitedSTEM founder Olia Javidi, is the third winner in PLCU's 20th Annual Scholarship program. Building robots was a major catalyst for her aspirations to become a Civil Engineer with an emphasis on Transportation Systems studying at Cornell University.
Organizing and running robotics education assemblies at elementary schools throughout San Diego County with her Hands on Robotics program, Olia explains the different functions of a robot and allows students a hands on experience.
Olia also took action by creating UnitedSTEM, a new kind of equality conference. One that was intersectional, allowed all voices to be heard and taught students about race, sexual orientation and gender in a STEM context. Olia says, "More importantly, they learned to widen their perspectives, how to overcome adversity, how to advocate for others who may be facing barriers, and how to make STEM more inclusive for all people."
Point Loma Credit Union (https://www.plcu.com/) is proud to help these three gifted students by naming them winners in its 20th Annual Scholarship Program. The PLCU Scholarship also provides winners an incentive to complete their education: if they maintain a full course load with at least a 2.75 GPA, they are eligible for additional awards of $1,000 each for their sophomore, junior and senior years, for a possible total award of $5,500.
ABOUT POINT LOMA CREDIT UNION: PLCU offers a complete selection of financial products and services including savings and checking accounts, loans, credit cards, the Visa Check Card, PLCU Online, Bill Pay Online and more.
PLCU is a member-owned financial institution with assets over $485 million with 6 branches as well as service centers throughout the United States.
The credit union first opened its doors in 1948 to serve the employees of the Naval Electronics Laboratory (NEL), who wanted a safe place to save and to go for loans. Since 1948, the field of membership has expanded to everyone who lives in San Diego and Riverside Counties. Today, PLCU is proud to serve a community of nearly 40,000 members. Learn more about PLCU by visiting: plcu.com and follow us on Facebook, Instagram, Twitter and YouTube.
Point Loma Credit Union
9420 Farnham Street
San Diego, CA 92123
Contact: Michele White
Public Relations Manager
mwhite@plcu.com
www.plcu.com
Source :
Point Loma Credit Union