Pol Theis Recognized by Marquis Who's Who for Entrepreneurship in Interior Design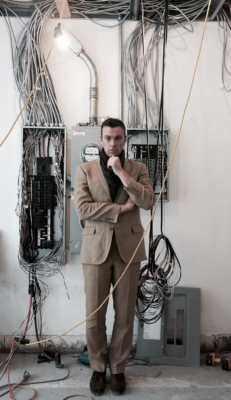 Press Release (ePRNews.com) - NEW YORK - Sep 27, 2017 - Pol Theis has been included in Marquis Who's Who. As in all Marquis Who's Who biographical volumes, individuals profiled are selected on the basis of current reference value. Factors such as position, noteworthy accomplishments, visibility, and prominence in a field are all taken into account during the selection process.
Since 2002, Mr. Theis has been the co-founder and principal of P&T Interiors, based in New York and catering to clientele in the U.S. and Europe. The firm has completed numerous residential interior design projects, which have been featured in over 150 international design magazines and books. Mr. Theis is most proud of being presented with the Americas Property Award for Best Interior Design Apartment: New York.
Mr. Theis is a graduate of the Pantheon-Assas University, where he studied business and tax law to earn a Master's degree with honors. He went on to the Paris-Sorbonne University to earn a Master's degree in Business and Economic Law, with honors, and passed the bar in Luxembourg. He worked as a corporate lawyer for eight years before moving to New York to pursue a career in a more creative field.
As a corporate lawyer, Mr. Theis specialized in trans-border mergers and acquisitions, in addition to organizing seminars in French real estate and Franco-German comparative legal topics. Notably, Mr. Theis was named an associate of Haarmann, Hemmelrath and Partners from 1997 to 2002.
In recognition of his work, Mr. Theis has been listed with New York Spaces Top 50 Designers from 2012 to 2017, and is the recipient of Americas Property Awards for Best Interior Design Apartment: New York in 2015 and 2016, and the European Property Awards for Best Interior Design Private Residence in 2015 to 2016. Furthermore, he received the 2011 Americas Property Awards for Highly Commended Residential Property Interior. Since he established the boutique firm of P&T Interiors, the firm's work has been published in such prestigious publications as The Wall Street Journal, Vogue Living, the New York Observer, Elle Décor, Architectural Digest, Marie Claire Maison, and Living Etc.
Mr. Theis' work was featured in a number of 2013 design books, including East Coast Modern: Contemporary Residential Architecture and Interiors.
Comprised of a small staff of architects and designers, Mr. Theis' firm is known for featuring his signature sculptural art and existential themes. He is known fondly in the art community as "The Rusty Doll Guy."
In addition to artistic awards, Mr. Theis is also the recipient of a 1994 Award from the Luxembourg Law Foundation for his thesis on the country's holding companies. He speaks English, German, French, and Luxembourgish, and has used his talents as principal of Trait-d'Union, which assists homeless persons in Luxembourg. In his free time, Mr. Theis enjoys cooking and traveling.
About Marquis Who's Who®:
Since 1899, when A. N. Marquis printed the First Edition of Who's Who in America®, Marquis Who's Who® has chronicled the lives of the most accomplished individuals and innovators from every significant field of endeavor, including politics, business, medicine, law, education, art, religion and entertainment. Today, Who's Who in America® remains an essential biographical source for thousands of researchers, journalists, librarians and executive search firms around the world. Marquis® publications may be visited at the official Marquis Who's Who® website at www.marquiswhoswho.com.
P&T Interiors
A boutique interior design firm, P&T Interiors provides highly personalized residential design services to an international client base. With the mission to translate a client's taste and lifestyle into their space while developing and maintaining a conceptual thread, P&T Interiors' small staff of dedicated designers and architects focuses all their attention on each and every project to ensure that the highest of expectations are exceeded. Newest ventures for the firm include residences in the Hamptons and Connecticut, as well as a townhouse in Manhattan.
For more information about P&T Interiors' award-winning designs:
Tel: +1 (212) 679-4125; Email: info@pandtinteriors.com or visit www.pandtinteriors.com. Also "Like" the Facebook page and follow P&T Interiors on Instagram.
Source :
P&T Interiors