Powerful New Career Management Book to Move Women into Executive Leadership
Leadership Self-Transformation: 52 Career-Defining Questions Every High-Achieving Women Must Answer New Book By Margaret Spence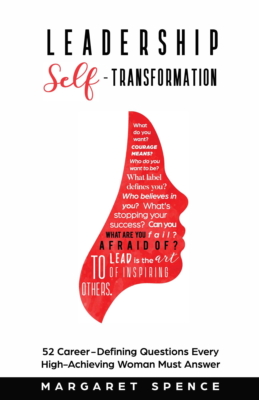 Press Release (ePRNews.com) - WEST PALM BEACH, Fla. - Aug 06, 2017 - Every woman knows that few are chosen and even fewer advance into executive leadership. In this powerful life-changing book, executive coach Margaret Spence asks high-achieving women 52 provocative questions to clarify their career and leadership vision. Leadership Self-Transformation isn't about changing who you are. It is about aligning who you are with what you do. Available now on Amazon
High-potential women executives must be reminded that Human Resources is not there to help you navigate your career. You must define your aspiration, solidify your career goals, and clearly articulate your action plan. You cannot lead until you get clear about yourself; you can't get clear until you're willing to ask yourself bold questions like:
• Question #4: What would you say your career preparing you to do?
• Question #6: Are you loyal without a reason for your loyalty?
• Question #10: What are you afraid of?
• Question #18: What connects your passion, purpose, and value?
• Question #35: Who are you without the label of your job title?
Leadership Self-Transformation is the inner work women must do on themselves in preparation for the next level of career advancement – it's the career coach you always wanted to help you prepare a path to success. Read the First Three Chapters on our website – Here
Book Information:
Paperback: 250 pages
Publisher: DCRC Training Group Press; First edition (August 1, 2017)
Language: English
ISBN-10: 0978940733
ISBN-13: 978-0978940737
Product Dimensions: 5.5 x 0.6 x 8.5 inches – Price $21.95
Book is Available on Amazon Now – Leadership Self-Transformation: 52 Career-Defining Questions Every High-Achieving Women Must Answer
The ideal book for career management, empowering women to embrace leadership roles, stop women from self-sabotage and creating ownership for career advancement.
About the Author:
Margaret Spence is on a mission to disrupt the leaky leadership development pipeline by empowering high-achieving women to manage their careers effectively. To increase the number of women in key executive leadership roles, we must move women from empowerment to strategic action. Women can no longer arrive at the front door and lose their identity, vision and leadership aspiration because they are loyally waiting their turn. Margaret founded the Employee to CEO Project – A community to support women's advancement beyond middle management. Her seminal book, From Workers' Comp Claimant to Valued Employee, lead the revolution to value injured and disabled employee in the workforce. Her new book, Leadership Self-Transformation aims to change the leadership development trajectory for women. Margaret Spence is a business strategist, keynote speaker, leadership development coach, corporate consultant, and the CEO of C. Douglas & Associates, a leading Human Resources and Risk Management Consulting Firm.
Source :
DCRC Training Group Press/C Douglas & Associates

Business Info :
The Employee to CEO Project
P O Box 211835
West Palm Beach, Florida - 33421 United States
Phone: 561-444-9256
Website:
http://employeetoceoproject.com